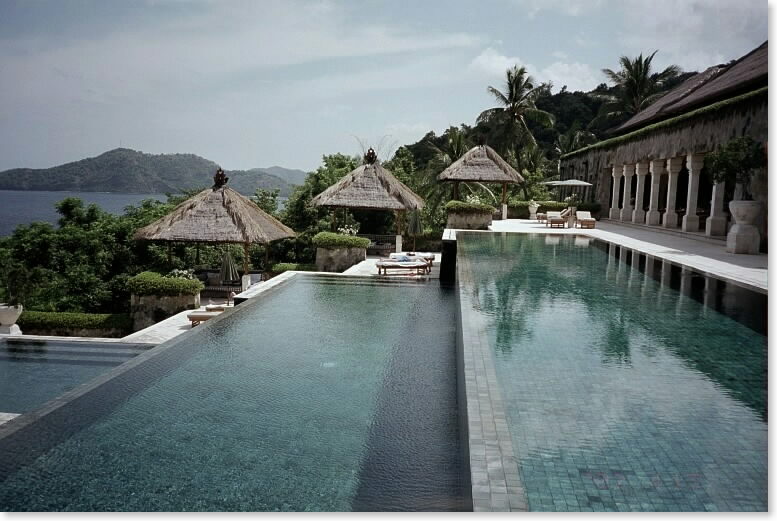 "Just imagine," she said. "One out of every three days there is a celebration or a festival."

             I met the woman in Singapore. When I learned that she worked in Bali, where I was heading, I asked why time and tourists don't seem to  have eroded the spiritual fabric of Balinesian life.

             "These are bonding experiences," she explained. "They involve an entire community. For example, when a child is 6 months old its feet are allowed to touch the ground for the first time. The whole village celebrates and the parents take 3 days off. In Bali tourists can observe, even participate, but the Balinese don't care one way or the other. They're doing it for themselves."

             So I discover. When I fly in next evening the driver has to pass through Bali's largest city on his way to the hotel. But it's Nyepi, New Year's Eve, April 12 this year. The streets are jammed with people. As we slow to a crawl, dozens of little motorbikes scoot madly around us. Ahead in the darkness, small hand-held flames flicker like over-excited fireflies. Suddenly in the opposite lane a gang of young men lurches by carrying a bamboo platform supporting a horrifying red giant, fangs sprouting from its leering mouth. It's an Ogoh Ogoh, my driver explains, an evil spirit. Made of paper over a wooden frame, it will be burned tonight in a kind of ritual exorcism.

             The mood is festive, but not for long. Nyepi requires that on New Year's Day everything stops. No one travels, works, uses lights of any kind or even moves beyond his own space. Which means that for my first full day on Bali, I am a prisoner in my hotel.

             Bliss.

             Amankila. "Peaceful hill." Like all the hotel's 35 suites mine is a private villa, a house of stone with a peak thatch roof. When I slide open the entrance door it is to a canvas of shades of beige: the 4 posted king-size bed, ceilings of intricately woven matting, hand-crafted wooden panels, desks, chairs and couches. Flowers are everywhere.

             The bathroom is terazzo-tiled, the deep tub strewn with petals. In the dressing room a plush divan sits under a window facing a tangle of exotic plants. When I stand on my terrace I look down at a long private pool flanked by 2 open pavilions, their raised floors         covered with thick mattresses and pillows. Behind each is a square lily pond canopied by palm trees, all hanging over a cliff with the beach and ocean below.

             A private staircase leads to my villa. Other walkways climb up and down the hillside to the other villas and to the large pillared restaurant which is open to the sea breezes. Each detail has been conceived with an artist's eye. Everywhere I look there's a picture.

             I've come to Amankila for the Aman Bali Experience. Aman Resorts is a group of  luxury hotels that pioneered, and some say perfected, the idea of using local materials, design, art objects and architecture to create small hotels of the highest quality. There are three Aman resorts in Bali. The Aman Experience combines stays in each with pre-arranged itineraries and activities which can be modified to meet each guest's requirements.

             When I heard of this program it was as if someone had read my mind. I wanted to visit Bali, but not on a program designed by a travel agent who might never have been there. Why not, in the age of e-mail, collaborate with someone who lives in Bali and knows the island as an expert? Because I'd stayed at Amanpuri in Thailand and thought it the most beautiful hotel I'd ever seen, I clicked on Amanresorts.com. And there it was.

             At 6AM the day after Nyepi I'm on my way to the Klung Kung market. Nicholas Parkinson-Bates, who is in charge of the Amankila phase of my Aman Bali Experience, has promised that this country market is worth getting up before dawn to see. Please let him be  right.

             He isn't. When we arrive the market is almost empty. The lonely lanes look almost as dispirited as I feel. But Putu Budi is not dismayed. A young Amankila driver dressed in an immaculate white suit, Putu knows the neighborhood. 15 minutes later we pull into the           market at Pasar Galiran.        

             This one is in full swing. I inch down its crowded paths, followed at a discreet distance by Putu, through a welter of  organized chaos. Here women sell baskets of marigold petals, there little silver fish. Men dip into circular bamboo pens and pull ducks        out by the necks for examination by prospective buyers. Now a woman walks by carrying an enormous mound of vegetables on her head. Stalls are piled high with rice, corn, dried

minnows.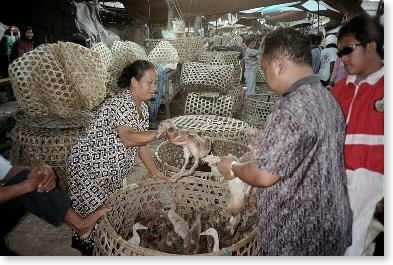 In the distance I hear squealing. Half dreading what I know I will find, I enter the pig market. An old woman is trussing a terrified piglet to a stick and laying it next to a row of others. Larger pigs are hoisted screaming out of pens by their legs and pushed and prodded and bought. Another woman walks by, on her head a wild eyed animal. I'm the only non Balinese in the market, yet I seem to be invisible. No one is diverted from the reason they are here.

             On the drive to breakfast we pass several women balancing wedding presents Bali- style. Just beyond, men squat in a driveway fanning flames under skewers of meat. Across the road the compound where the wedding will take place is decorated with strands of bamboo. In Bali, Putu explains, different generations live together in a walled group of several buildings and a cluster of family shrines. During the month before Nyepi weddings are forbidden and the Balinese are making up for lost time.

             Putu stops at a bend in a twisting mountain road. Just below rests a small bamboo platform with 2 cushioned day beds. From a village buried in trees and surrounded by terraces of rice fields come the sounds of a gamelan, a group of marimba-like instruments     playing for yet another wedding. From the picnic hamper emerges 2 rattan boxes, one containing bite size pieces of passion fruit, mango, papaya, pineapple and watermelon. In the other are 2 hefty chicken sandwiches. It has already been a full day and it's only 8:45.

             Tenganan is a Bali Aga village, aga meaning original. Until 1970 Tenganan remained isolated, the villagers living simply and poorly within their own community. Then the government persuaded them to open their gates. Suddenly their everyday baskets became valuable craft items. Old furniture was snapped up as antiques. The double ikat fabrics that only they knew how to make? Don't ask. The Tenganans are rich, Putu says.

             When I arrive the men are watching American boxing on color T.V.s. Fighting cocks are enclosed in baskets for future - illegal - entertainments. Kids play furiously with action toys. Stepping into the houses I see doorways draped with ikats and hear the sounds of

daily living behind. Then a woman, always a woman, comes to show me the merchandise that fills the now public rooms. This too is the Bali Experience and fascinating as well.

             The town of Salat specializes in "primitive" sculptures and antiques "made to order." Tall thin statues line porches on the main street. Each is hand carved, but so skillfully that they all look exactly the same, just as if they were turned out by machines.

             As tacky and touristy as they are, the village itself remains thoroughly Balinese. From the bright-faced kids pouring out of school in their spanking clean uniforms to leather-faced, gap-toothed farmers, from stands of towering bamboo to men laying the foundation  of a home using lava spewed out by Mount Kanjung, there's only one place in the world that looks like this.                     

             For me the essence of Bali has always been the image of tiers of cascading terraces filled with plants of emerald green rice. The fields around Amankila don't match that picture, but walking on the mud walls that raise one above another gives a fascinating look at how the rice is planted, cultivated and harvested.

             The terraces vary in size, none very large. A few are flooded and are being leveled by bulls followed by farmers lurching through the muck. In others, clusters of seedlings wait to be separated and planted. The rest have plants in various stages of maturity from very young to mature plants being harvested and threshed. Each stage requires different quantities of water, needs that are met by a system of irrigation so complex it would baffle Big Blue. But not the farmers who make cuts in the mud so that exactly the right amount of water is fed into each field.

             My transfer to the next Aman resort has been routed through into Sideman, a mountain village whose hillsides have been carved into sweeping terraces. But the sun is overhead and the light and colors are flat. Then Putu rounds a bend and the hills fall to a stream-fed valley. Planted among the rice are dozens of elegant palm trees. Backlit by the sun, their fronds look like starbursts against the green of the fields. Though I've never been here, I recognize it instantly. It's my Bali.

             A photo of Amandari shows a pool that seems to fall off the edge of the world. "At night the surface of the pool almost looks solid," says Front Office Manager, Wayan Suartika. "We had a couple of  Japanese guests who were a little bit drunk who tried to walk on it."

              Mr. Suartika guides me past a building where Balinese children are taught both traditional dance and music. "We're trying to encourage the maintainance of our culture," he says. Two "bales," small open pavilions allow private dining and relaxing. We pass the hotel's shop where the finest art, crafts, fabrics and antiques from not only Bali but all of Indonesia are sold.  The path leads past individual walled compounds, one of which is mine.

             Before leaving Ubud for Amanusa, the third Aman resort, Sunarya asks if I would like to visit an artist in town. A few minutes later we pull up at the studio of Nyaman Tulin, a slim young man sitting on a tile floor working on a landscape of rice fields and forests. Above him on the walls hang large, finely detailed works of birds and more panoramas.

             When we continue, the road is lined with tall bamboo poles to which woven offerings are attached. They mark the approach to a temple where a festival is being held. When we arrive I quickly roll up my pants, wrap on a sarong and sash and udeng, a temple head band. Now I will fit right in.

             In the center aisle of the first courtyard a double row of women dressed in golden costumes are dancing to the sounds of a gamelan orchestra. On a raised dais 4 priests bless offerings of food and  small animals. Across from them another group watches a man manipulating puppets while two musicians accompany him on Balinese xylophones.

            The women dancers are followed by a group of men in fabulously colored costumes. Slowly and menacingly they lift their bare feet, knees bent outward, holding the position for seconds at a time. Keeping the aisles clear are young men with painted faces bearing walkie talkies. Others squat on the ground filming with digital cameras.            

             Back on our route we stop at Sukawati where "I Wayan Nartha, puppet carver, gender player, performance puppet shadow player," takes us into his compound. With a mallet between the toes of one foot he raps out a furious tattoo while puppets in each hand act out the battle between good and evil.

             "Do people still like these ancient entertainments?" I want to know. "Yes," he answers through Sunarya. "The kids like the funny ones and the older folk like the stories."

             In the village of Celuk, hundreds of signs bear the words, "silver and gold." Batubulan is literally pasted onto Celuk, but here the streets are guarded by Shivas, monkey kings and evil spirits

             Among the signs, one keeps reappearing. It reads, "Doctor (or Doktor) Gigi, Dentist." Who is this Doctor Gigi, I ask Sunarya.   "He's the tooth doctor," he says. "Gigi means tooth."

             By now we're late for lunch, so we drive quickly to Amanusa. When I'm shown my suite I finally have the answer to those who will inevitably ask me which Aman is best. I'll honestly say I don't know.

             I don't see the shower until I hurry up to lunch, but it will be the symbol of Amanusa to me. It's in an outdoor terrace bordered by a pond of broad-leafed water plants. The thatch roof extends almost to a wall green with moss. Two potted plants flank the shower and thick towels are draped over a rack next to sliding glass doors.  If indulgence is a sin, I am doomed.

             A deep sunken bath also faces the pond but is enclosed in glass. Purple patterned robes hang on the walls. It is here where the Aman Experience concludes, if that is your wish, with a bath prepared either with oils or crystals, following one of several kinds of           massages. The mere thought of which makes me smile.

             Flanking the tub are 2 marble sinks with huge mirrors facing built-in wardrobes and closets. On the other side of the wall is a 4 posted, white-netted, ikat-draped bed. Facing it is a long sofa set  into a windowed alcove. The Aman fruit basket sits on the writing desk, a bottle of Moet et Chandon on the round dining table.

             Sliding doors open to my private swimming pool. In the center of  the terrace is a day-bedded pavilion protected by a canvas roof. At  each corner of the pool, orange bougainvillea grow in great urns.  When I finally sit down to lunch it is on one of two symmetrical roofed terraces set high above a huge swimming pool. The menu offers           Indonesian, Thai and Continental dishes. The pad thai is the best  I've ever eaten.

             Amanusa is the place to relax and unwind. Not that there aren't  things to do. If I were a shopper the possibilities are unlimited. Or  I could take a cooking class with the chef. My suite reposes above  the 8th green of the Bali Golf and Country Club, one of Asia's top 5 courses. The Uluwatu temple, they say, is spectacularly situated on a cliff overlooking the sea. On the other hand, sunning on the sand at  the Aman Beach Club sounds awfully tempting. After the sensory and  cultural stimulation of the preceding days, I may just opt for that.

        THE AMAN BALI EXPERIENCE: For information about Aman resorts and Aman           special programs, including the Bali Experience, call toll-free, 1 800 477-9180.

        HOW TO GET THERE: Singapore Airlines, 800 742-3333, www.singaporeair.com, flies to Bali by way of Frankfurt and Singapore. It is known for comfort, service, cuisine and wine cellar in the sky.
        WEATHER: Bali is usually hot and humid. Light clothes, sunscreen, sunglasses, hats or caps are recommended. Casual clothing is acceptable everywhere.  My favorite article of clothing was light weight convertible pants. In hot weather you zip off the legs and walk around in shorts. By Ex Officio, 800 644-7303, www.exofficio.com. The hottest months are during the rainy  season, November through March. Between May and August Bali is cooler  and drier.
        RECOMMENDED READING: The Knopf Guide to Bali is, according to the General Manager of Amandari, "the best of the guides." It is full of  excellent illustrations and photos, historical, cultural, geographical, architectural and practical information.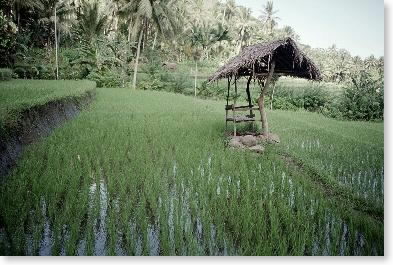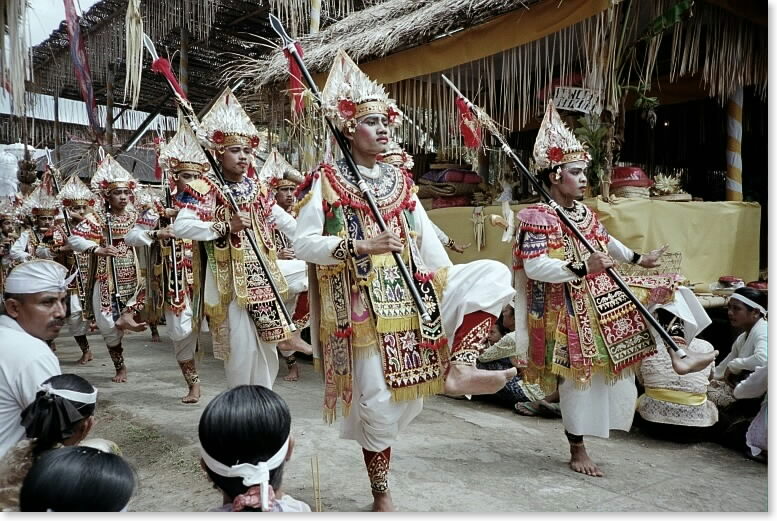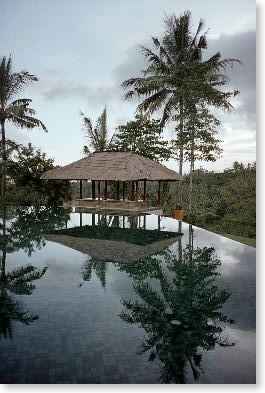 The suite is a duplex whose first floor living room measures over thirty feet square. From one of the corner day beds a farmer can be seen setting seedlings in a rice field a hundred yards away.

Up a circular staircase a canopied bed sits under a bamboo ceiling. The headboard is a fanciful Balinese print in delicate shades of blue. One of three terraces contains a private swimming pool and a pavilion for outdoor dining. In the evening a woman sets lamps around the pool as shadows fill the valley and the mountains fade away.

Amandari is situated outside the town of Ubud where, in the 16th century, the royal family of Sukawati built a palace. The palace is still in Ubud but both it and the village have changed. Ubud is filled with banks, restaurants, stores selling gold, baskets, mobiles, paintings and the Ubud Fitness Club. As for the palace, the buildings in its outer court are now guest houses. Shaded chaise longues rest on porches among sculptures of good and evil spirits guarding ornately carved doors. Inside? Only the guests know.

             The inner court is the home of the current royal family. While we are there a young girl in a school uniform stops to tease a monkey on a chain. On a porch sleeps a tiny old woman curled up on a bare foam mattress. Her royalgrandmother.

              Part of today's experience is to visit local craftsmen. But it's necessary to be spontaneous in Bali where unpredictable things happen every day. Amandari's General Manager has heard of a post-cremation ceremony taking place in the village of Mas. We're on our way.

              In a field where large tents have been erected, a gamelan orchestra is playing. Further on women arrange offerings of food on a large table while a man carries in one roast pig after another. For all the exotic display - the colorful garments, the unusual music, the garlanded platforms - the ceremony is more familiar than strange. Kids race around making mischief. Girls hold hands and giggle while boys show off. Women take charge of the food and dads nuzzle babies. We've seen and done it all ourselves. Only the setting is

different.

              At last we resume our schedule and visit the Tilem Sculpture Gallery and the workshop of mask maker Wayan Muka. The sturdy young man is bent over a half-made mask, carving the wood with powerful hands.

             "Wayan is also a dancer," says Sunarya, my guide from Amandari, and  as if on cue Muka slaps a melancholy mask on his face and is  transformed into a picture of woe. He changes it for one expressing glee and his body becomes suffused with joy. Then he comes back to  himself, a thoroughly modern artist and a very genial host.

             For many tourists Ubud is Bali, an island of temples and tourists and a population so dense that one village begins before the previous one ends. Yet even in Ubud the countryside isn't far away. Amandari has programmed an activity near a steaming volcano named Mt. Batur. At 8AM Anom, my guide, lifts two mountain bikes from the van, hands me a

helmet and we start our descent. The fields on either side of the perfectly paved road are thick with fruit trees, coffee and bananas. There is little activity except for one compound whose courtyards are full of men and women preparing for a wedding.

             Against my protests Anom takes me in. "Balinese people are friendly," he says. Within moments I'm offered a chew of betel nut which I decline and triangles of sweet sticky rice which I accept. Around a corner I'm greeted by a man with bloody hands. He raises them to the camera while the pig he has just slaughtered is having its bristles singed off.                      Soon we are biking through the village of Kanjung where thousands of kitchy statues line the road. Anom takes a sharp right and we're plunged into peaceful rice fields. At Tegallalang every hillside has been sculpted into small paddies filled with water and the brilliant green of tender shoots. It is perhaps the most beautiful sight I have ever seen.

             The price is the row of souvenir stands down the road and a band of relentless hustlers. Assuming a Balinese smile while declining to buy doesn't dissuade them, but it does keep the atmosphere congenial.

             Though it looks like rain, Sunarya, who has driven up, insists on spreading a picnic lunch in a meadow overlooking more fields. He unwraps a banana leaf enfolding a sumptuous nasi campur, rice with chicken and beef and fish. There are satays with peanut sauce and a bowl of fruit decorated with frangipani blossoms. When I've finished I thank my companions for setting up the picnic, for accepting the invitation to join me, and for the view. I also thank the rooster that provided background music.