THE MALDIVES

ISLANDS and

ATOLLS and

GIANT MANTA RAYS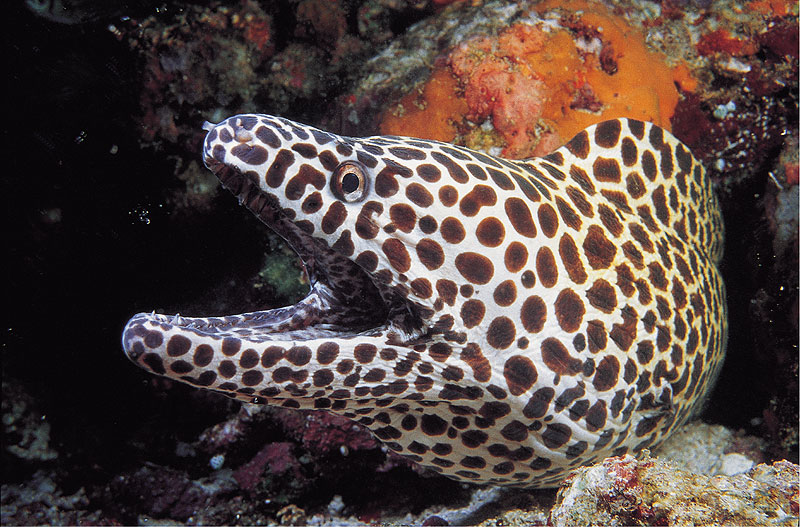 Question: "Just where are the Maldives anyway?"

             Answer: "South of Sri Lanka."

             Response: "Thanks a lot."

             The real answer, which I needed since I was going there, is that the Republic of Maldives, a       nation of 1,190 islands spread over 26 coral atolls, is located in the Indian Ocean southwest of         the island nation of Sri Lanka. Which itself is just off the southern tip of India.

             But of course you knew that.

             At the small but modern Maldives airport, a crowd from two jumbo jets lines up before 10            control desks. I listen for American voices and hear French, a few Spanish and some                           Australian, but mostly Japanese. The shortest line is for "Maldives Citizens Only," whose faces       are pure Indian. As far as I can tell I am the sole representative of the U.S. of A.

             I've never before walked only a few yards from a major airport and stepped onto a small             speed boat. But this is the Maldives. It's after 10 p.m.; the temperat*re is what they invented the        word  "languid" for. I think, "If it's like this now it's really going to be hot tomorrow." 30 minutes       after casting off we approach a band of lights hovering above the water. The boat slows and            glides to a jetty and we have arrived at the Four Seasons Resort at Kuda Huraa.

The island of Kuda Huraa is long and narrow. On one side a powdery white beach runs its entire length, slipping into a lagoon of such transparency it is hard to see where the sand ends and the water begins. A huge swimming pool ringed with chaise longues and umbrellas has been devised to blend into the sea. Children playing in the pool look like water sprites popping out of the ocean.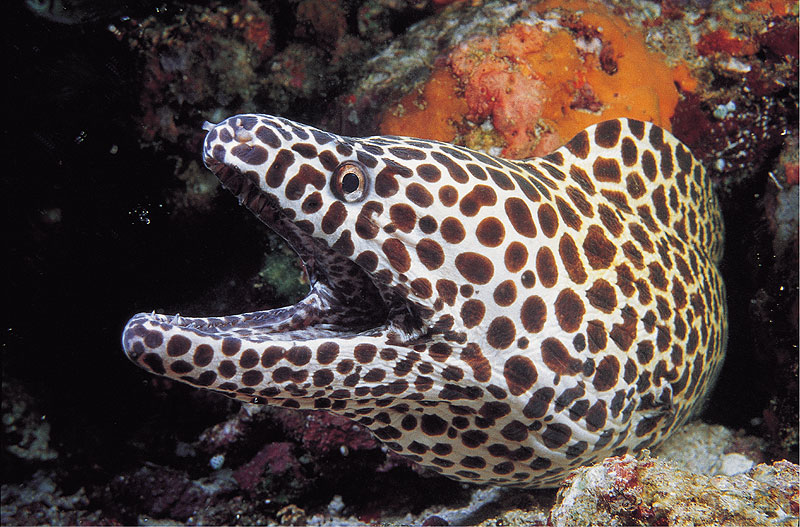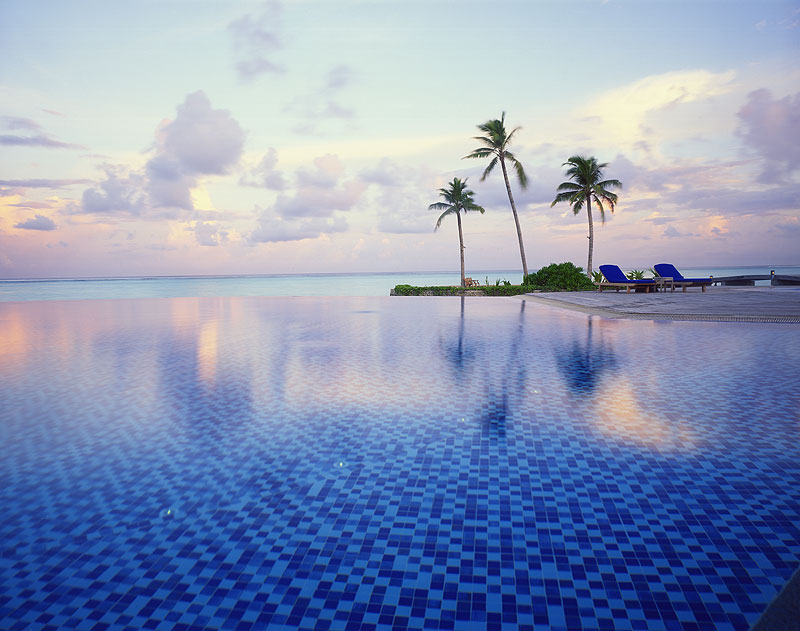 A long, tree-shaded path leads to 68 bungalows with tall thatch roofs, half on one lagoon, half on the other. At the farthest end of the island, beyond the health club, the children's playroom and the Reef Club restaurant, a wooden walkway runs stright as a die over a          shallow reef. On either side, white-walled, thatch-roofed bungalows perch on pilings above the water. Larger than the beach bungalows, their private decks allow unobserved sunbathing, platforms encourage stepping into the sea and views extend all the way to India. Seen from offshore, the island looks like a giant tadpole with a tail of water bungalows swimming in an impossibly blue sea.

    The Island Spa occupies its own tiny circle of sand on which hibiscus and frangipani bloom red, white and coral. I'm carried there in a small boat with an up-turned prow that looks more Viking than Maldivean. In a private treatment pavilion Anna Suwanna from Thailand         drops warm oil on my body and very slowly and gently spreads it over my face and neck, stomach and back, arms and legs. I'm being massaged by a butterfly to the music of waves lapping beneath me.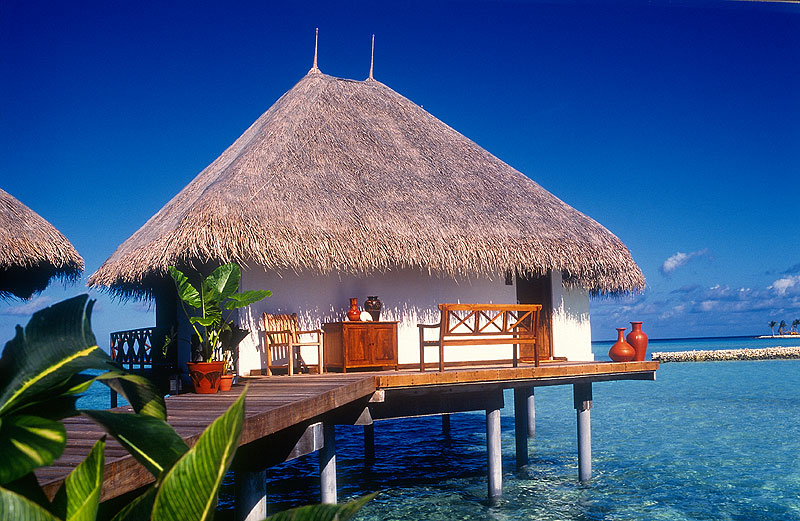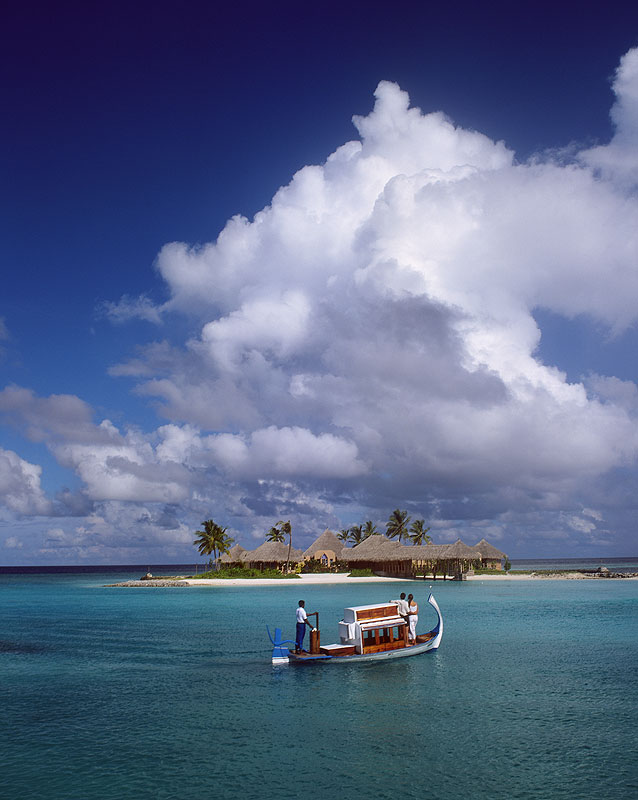 In its wisdom the Maldives government requires each new resort to develop and occupy an entire small island. Because of this policy, the difference in resorts has much to do with their own corporate culture.

      Since 2,002 the Four Seasons has had something beyond its reputation for top-notch facilities and service to set it apart. The Island Explorer is a 128 foot catamaran motor cruiser, the first luxury hotel yacht in the Maldives.

      I had expected the boat to be tied to the Four Seasons' dock on the day I was to board, but it was not. It was anchored offshore, white and solid and motionless. Three decks rose in diminishing tiers above two catamaran hulls like the proverbial wedding cake.

      "Ladies and gentlemens, welcome aboard," said Boni Sabayang, the captain of the Island Explorer. In a way he was a bit late. We'd already walked through a line of welcoming drummers who, I strongly suspected, were members of the crew.

      The captain was a genial Indonesian who lived, when at home, on Bali. He had sailed container ships and cruise ships and when asked if the Island Explorer was different he said that a ship is a ship and he could sail them all. "Besides," he said, "I have so many high-tech     gadgets the boat sails itself." It was true that his bridge, spanning the front of the forward deck, was equipped with the latest technology. Still we didn't believe him.

      Sipping milk from coconuts whose tops had been lopped off, we listened as the captain played the distress signal on a very loud horn and told us what to do if ever we heard it. Then I was accompanied to my stateroom by a crewman who assured me I never would.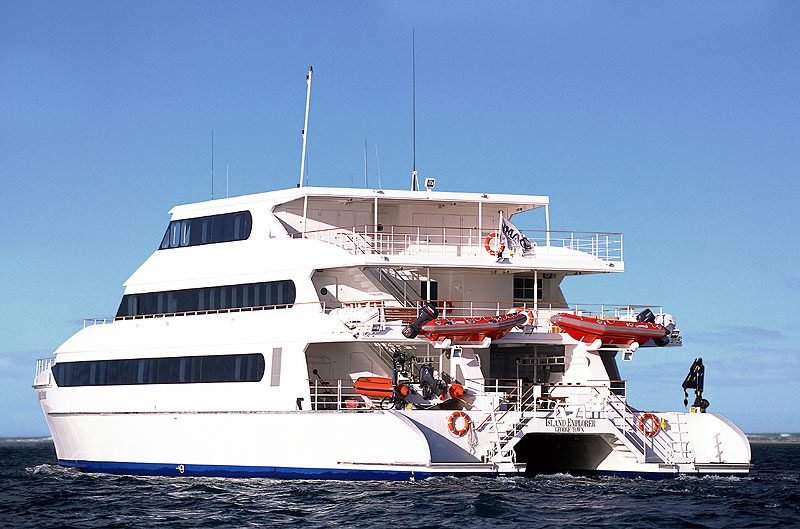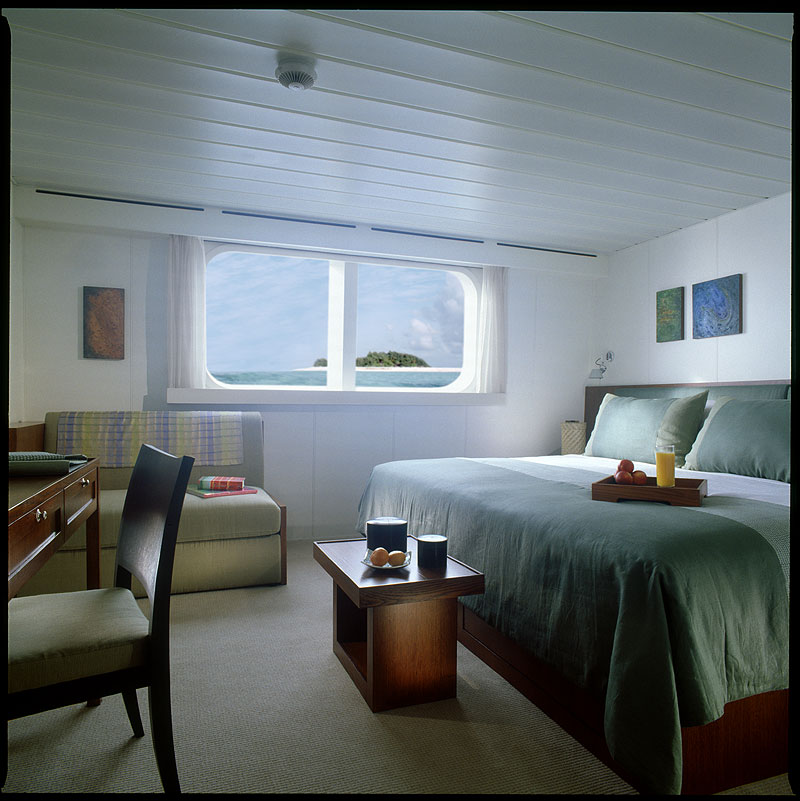 By any standard, the stateroom was remarkable. First there was the king size bed flanked by 2 night tables. Then the bank of pristine white closets, the 19 inch TV and the radio-CD/DVD player. A desk, couch and two wonderfully big windows completed the room. Adjoining was a real bathroom - tub and shower, sink and toilet and space to move around. Anywhere else this would have been a fine hotel room. A gentle rocking told me it wasn't.

     We were to meet in half an hour for a more detailed briefing followed by an afternoon dive and snorkel, but I came early to prowl. Which is how I discovered the chairs on the third deck high above the stern. "The others will be late," I mused and assumed a reclining position. "Ah," I thought, as the wake melted into the ocean and Kuda Huraa became smaller and smaller. "This is the life for me."

      By the time the rest of the passengers had emerged from their cabins, the sky was turning rose at the edges. On the main deck, two long tables had been set for dinner, the wine glasses lit by the sun. When the sky finally darkened, stars didn't come out, they leaped from the inky blackness with a brilliance that was shocking.

      At our table were a Turkish businessman and his American wife, a  New York woman and her brother and husband from Columbia, all slipping effortlessly from one language to another. At the second table were a young French couple, an Italian with his Swedish wife, an Australian and two Brits. The lady on my left was German. Cruise Director Michael Clarke from New Zealand refereed.

      "We've got 22 crew on board for 14 guests," said Michael at the second briefing. "That should be enough. We have two programs," he continued, "Divers and Explorers. There is kayaking and windsurfing, sunset fishing, an intro to scuba, and you can have a massage on the beach. I forgot about our Jacuzzi and our telescope for star gazing."

      "It's a first class operation," said a guest returning after the day's dive. "You never find a dive boat as well managed as this. We don't have to do anything except dive in and climb out."

      While new divers were limited to fewer dives, the others could and did dive 3 times a day. One diver was heard to admit that he found the most beautiful fish near the surface. "It's like swimming in an aquarium," he said. That's what the snorkelers had every day.

      The fish we were sharing the ocean with were described by Guy Stevens, our Marine Biologist, with the aid of a large plasma TV. One after another our acquaintances appeared on screen: emperor and regal angelfish with blue and yellow or orange stripes, pointy-nosed          butterflyfish, big groups of bannerfish with trailing dorsal fins and my favorite, the powder blue surgeonfish with their yellow dorsal fins. Not to forget the black-striped sergeant major, coral-crunching parrotfish, finger-crunching moray eels, clown triggerfish and others of the 1,100 species of fish found not far from our boat.

      But no slide show could duplicate floating above an underwater cliff while flickering rays of sunlight glanced off darting schools of irridescent fish. Or scuba diving into a cloud of fusiliers and being engulfed in a sea of quicksilver. Or free diving 30 feet down to swim hand in hand with a sea turtle.

      One day the experienced divers had followed a dropoff in the reef to approximately 70 feet when a large shape loomed in the distance. The previous week's divers had seen an enormous whale shark so when dots appeared on the bulky shape before them, hearts started racing.

      As it drew nearer they could see a gaping, toothless mouth and wings propelling it majestically toward them. It was a giant manta ray, not dangerous because it was a plankton feeder, but a bit terrifying nonetheless. Beautiful too as it gracefully flew past and faded into      the dim beyond.

      "If you're going to rouse yourself for a 6:30 dive, it had better be worth it," someone groused heading early for bed.

      It was.

      "The fish were still in their caves," said the excited diver when he walked into the dining room where normal people were having breakfast. "Then suddenly, whoosh! Thousands of them came swimming out at once. All sizes, all colors, all around us. Fantastic!

      Time lost meaning on the Island Explorer. We were busy but not rushed, active yet still relaxed. Was it too good to be true? No, this deep blue ocean, the islands hugging the horizon, the patch of turquoise where the brilliant fish swam, these were very real.

      The last dinner of the cruise was not held in the spacious dining room or on the adjacent deck where we had had one excellent meal after another. Instead we were requested to wrap the sarongs we found on our beds around our torsos and gather on the aft deck. When the laughter subsided, we clambered aboard rubber zodiacs and set off for a nearby island where strange lights were flickering.

      When we slid off the rubber pontoons, some gracefully, some less so, we found two deep parallel trenches scooped out of the sand. Between them remained a smooth rectangle that had been laid with formal place settings. Towels to sit on had been laid on the other side of        the furrows which we now saw were for our legs and feet.

      Around the beach, little holes had been dug. In the bottoms small candles glowed while torches flamed in the trees above them. In this magical setting we dined on fish and meats grilled to perfection. on salads and fresh vegetables and fine wines and desserts served in        coconuts. If ever there was a sandbox for adults, this was it.

      Much as I hated leaving the ship, returning to the Four Seasons was like coming home. Forehead pressed against the window of the seaplane that was bringing us back, I took one final look at the Island Explorer. The islands, small, green, belted with white sand, multiplied as we rose. Submerged banks of coral were drops of light blue in a deep blue surround. Was that the reef where we were engulfed in fusiliers? That one? That?

      Then we banked and it was gone.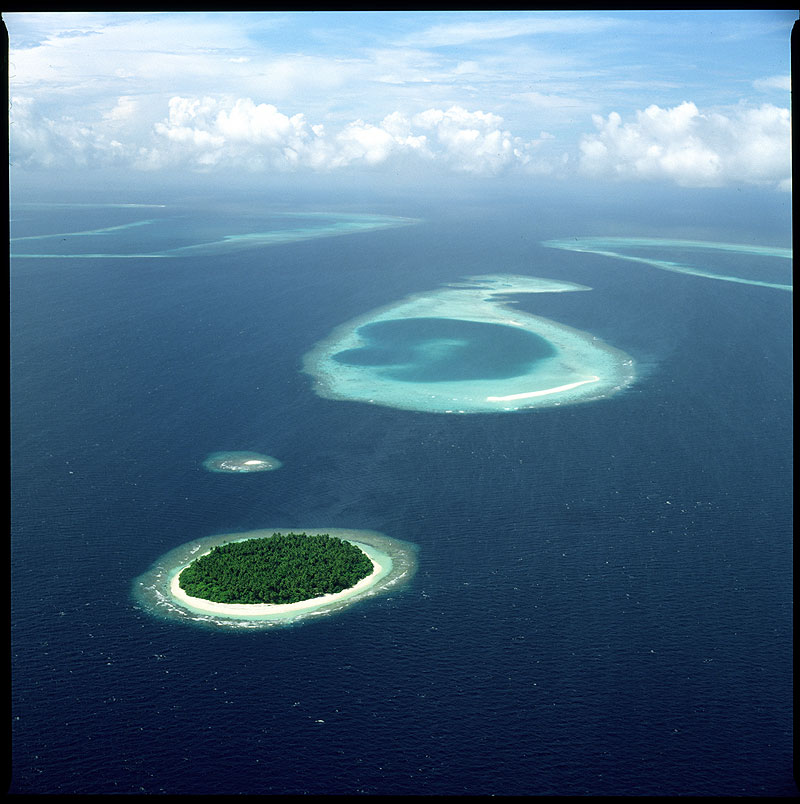 HOW TO GET THERE:

Malaysian Airlines (800 552-9264, www.malaysiaairlines.com) flies non-stop from New York to Dubai, a 13 hour flight. Connecting flights on Emirates Air (800 777-3999, www.emirates.com) fly to Male, the capital of the Maldives. The resort launch brings guests to the resort.         Malaysian Airlines also flies from Dubai to Kuala Lumpur in the same aircraft after refueling. The capital of Malaysia is well worth visiting if time permits. Malaysia Air flies non-stop from KL to Male.
WHERE TO STAY IN KUALA LUMPUR:

The exclusive Regent Club occupies the top 3 floors of the 5 star Regent Hotel (800 332-3442, www.fourseasons.com/kualalumpur). Guests in its 90 rooms and 30 suites receive personalized service from the club's staff in their own 18th floor lounge, outdoor terrace and
breakfast room. Hotel facilities include an outdoor pool, 3 of KL's best restaurants and a spacious spa with a complete gym.

WHERE TO EAT:

In addition to its Chinese and Italian restaurants, the Regent's Zaliha Asmael is renowned for her exotic and savory Malaysian cuisine. For a fascinating look (and taste) at a street of outdoor food stalls, ask the concierge for directions to nearby Jalan Alor.

At the other extreme, take afternoon tea at Carcosa Seri Negara, the former English governor's mansion. 2282-1888.  www.friedchillies.com for an insider's picks.
FROM THE AIRPORT TO THE CITY:

By Train: The fastest way is the new KLIA Express train (www.KLIAekspres.com) which takes 28 minutes to the Central Station where cabs to hotels are plentiful.
By Limousine or Taxi: Coupons are sold at counters upon exit from the Arrival Hall on the third floor. An hour or more depending on traffic.

FOUR SEASONS RESORT AT KUDA HURAA (www.fourseasons.com/maldives, 800          332-3442,) The resort is 25 minutes by speedboat from the Male International Airport. The resort will arrange transfers.
CLIMATE

Generally warm and humid, average temperatures range between 84 and 90 degrees, but the equatorial sun can feel very hot. The dry season runs from December to March. The wetter period is from May to September. (www.visitmaldives.com for more information.)
ACCOMMODATIONS

Of 68 Beach Bungalows, 35 have terra-cotta patios, king-size or two twin beds and spacious bathrooms. 6 Beach Bungalows include a private open-air garden shower. 26 Beach         Bungalows also have a large wooden deck with a private plunge pool. The 2,572 square foot Kuda Huraa Beach Villa features all the above and a well-appointed living room between two bedrooms.        

34 Water Bungalows are built on columns in a placid lagoon. Bedrooms have day beds as well as a king-size bed facing the sea. A dressing room leads to a bathroom overlooking the lagoon. The deck allows private sunbathing. Steps lead to the lagoon for swimming. Four 1,643 square foot Nirvana Water Villas feature beautifully-appointed living rooms with wrap-around sea views, elegant bedrooms and two bathrooms. All bungalows have a sound system and TV, air conditioning, overhead fans, deluxe bathroom amenities, hair dryers, safes and minibars.

RESTAURANTS

Cafe Huraa overlooks the swimming pool and lagoon and serves an extensive breakfast buffet, lunch and dinner embracing cuisine from all corners of the globe.

The Baraabaru Indian Restaurant serves a diverse selection of fresh-caught fish, biriyanis and currys, vegetarian specialties and good light wines and a fully stocked bar.

DIVING

The Dive Center is managed by a staff of dive instructors and is equipped with Nitrox Air and a comprehensive selection of dive gear. Sunrise, wreck, night dives as well as PADI dive courses are offered.

Watersports include snorkeling, water skiing, kayaking, windsurfing and fishing. A marine biologist leads snorkeling trips and presents fish talks. Island site seeing, sports and cultural presentations for non-divers.