SKIING AND SPA-ING IN UTAH

                                                             by Robert Ragaini with Jacqueline Lorber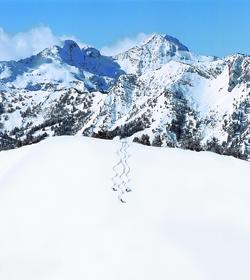 "It was wonderful," said the Lady from New York when we met at twelve thirty for lunch. All morning I'd been skiing incredible runs that I was bursting to tell her about, but she didn't want to hear it.

      "As soon as I put on my robe I knew this spa would be different," she said. "It's the first where the locker room had

a place to store ski boots."

      In the therapy room where she had her "Nordic Experience" facial, "a therapist spread an herbal mask on my face. While it dried she massaged my shoulders and arms 'til I was putty in her hands."

      Sounded awful to me.

      We were sitting in the Silver Lake lodge in Deer Valley, Utah. Outside the window was the high speed lift that had

transported me to endless views of the Wasatch mountains and great boulevards of perfectly groomed snow. Now that was wonderful.

      When discussing vacations, we'd been faced with a dilemma. I wanted to ski. She wanted to luxuriate in a spa. The solution was simple. Ski resorts in recent years have been adding spas to their more traditional offerings. One was at the Stein Eriksen Lodge in Deer Valley. Named for the legendary Olympic champion, rooms at the lodge were fully booked, so we put up at the Chateaux, one of Deer Valley's most elegant condominium apartment rentals. At the Silver Lake base lodge, guest service attendants  unloaded skis from arriving cars and placed them in racks for their owners. Inside, the chore of lining up for lift tickets and the overheated restaurants that characterize many American ski resorts were missing. Instead, the feeling was friendly, relaxed and downright luxurious. This was my first taste of the "Deer Valley Difference."

      "Ours are the most cared for slopes in the country," said a young employee. So I tugged on my boots, clamped on my skis and went out to put him to the test.

      At the foot of the Snow Park Lodge, the Carpenter Express scooped me gently up and placed my privileged posterior on a bone dry, thickly padded seat. In less than 5 minutes I was at the top of Bald Eagle Mountain carving long, easy turns on a wide cruising trail.

      I'd only covered a fraction of Deer Valley's 1,700 skiable acres  and 95 trails and bowls when it was time to meet the Lady from New York for lunch. In the Silver Lake Restaurant the Carvery was serving thick slabs of marinated

New York Strip steak . For stews there were curried beef with cous cous and turkey chili. The salad bar included brie

and buffalo mozarella. Desserts? Don't ask.

      Back home the Lady had agreed to take beginner's ski lessons.  So at 12:45 I helped her onto her first- ever skis, propped her up on her poles and fled.

      "I was great on the baby conveyor belt," she said later. But when we went to the lift the instructor told me how to get on but not how to get off. I just sat there. They had to stop the lift and come and get me."

      This was not an auspicious beginning.

      At 1:30 I joined a dozen guests for one of Deer Valley's free two hour intermediate ski tours. The experts were at Empire Canyon. At 9,570 feet, fingers of snow fell from the ridge. "Chutes are hard core skiing," said Heidi Voelker, Deer Valley's Ambassador of Skiing. "You go almost straight down. You're eating snow because you're laughing so          much."

      Uh huh.

      By now the Lady from New York was roughing it at Stein Eriksen's. Kim, her therapist, spent an hour and a half

turning her into a "Nordic Princess."

     "First she exfoliated my entire body and rinsed me with several shower heads. Then she gave me a rosemary-

protein body misting followed by a 50 minute massage. I could have stayed there forever."

      Next morning the Lady arrived at the spa early for a whirlpool and sauna. Then she was slathered with oil mixed with honeybee serum. Wrapped in layers of heated blankets, she steeped while her therapist massaged her face and neck. "When I was in the most relaxed state I've ever been in, she unwrapped me and rubbed me with warm coconut milk lotiond<' she said. "The saddest words I ever heard were, 'We're out of time.'"

      And a good thing, too. The ski instructor was waiting for her

final beginner's lesson. At the end of it she said, "I can't believe it.

When the lesson ended I wanted more!"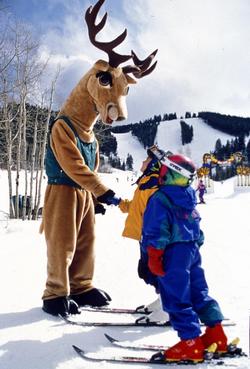 The next day we were flying in the Flight of the Canyons gondola. 

The day before we'd shuttled 10 minutes from Deer Valley to the Canyons

Ski Resort and checked into a large new time share apartment at the

Westgate Resort and Spa.

      The Canyons is in every way bigger than Deer Valley. With 3,500

skiable acres, 8 mountains and 146 trails, it is the largest ski resort in

Utah. Papillon the Spa in the Westgate has 17 treatment rooms, commo-

dious changing  rooms and an oversize hot tub with a waterfall. So it

seemed appropriate to divide our time between the two very different

resorts.

      With so much acreage there is more than enough at the Canyons

for skiers of all abilities. Runs from easy to impossible can be found

everywhere, but huge sections have been created for each level: bowls

for advanced experts, Condor Woods with 11 expert and 6 intermediate

runs, the High Meadow lift for novices.

      Often the trails were bordered by groves of aspens. The white of

their trunks against the white of the snow created a scene of other-

worldly beauty. I stopped on one that smelled like Christmas. A snow-

boarder passed me, then all was quiet. Standing motionless on a ski trail in Utah. This was skiing, too.

      The Lady from New York had brought her newly won talents to the Canyons "Perfect Turn" ski school and promptly lost them. "I feel a little scared today," she said. Then she brightened. "But that's okay," and

skied with her instructor to the lift. Two hours later she returned and said, "I had so much fun. I couldn't get enough."

      That afternoon there was a "sinfully relaxing" massage followed by layers of hot towels until she was

"wrapped up like a burrito." Then she was unpeeled and rubbed with mango, apple and Shea butter. "It was +

  impossible to imagine my skin could ever feel this soft."

      With the vacation winding down I felt an increasing pressure to partake in an experience at Papillon the Spa. I accepted with good grace. But let the Lady tell it:

      "As we entered the room the therapist showed us an aromatherapy tub set with candles and wonderful-smelling water. What he said was, 'You expect us both to get in there?' So much for romance.

      "Next came the massage. Side by side two expert therapists began the treatments. 'Anything special you want me to work on?'  his therapist asked. No response. I called out, 'Attitude.'

      "'Knots, who me?' he said. 'Yes,' his therapist said, 'You're from New York. Everyone from there has knots. If you don't, you're in denial.' She had his number all right."

      The entry in her journal ends there but that was enough. Of course none of it was true. Actually I liked it, though I couldn't tell her that.

     On the final day the Lady and I skied together. We started on the tiny novice slope, then moved to the beginner's run. From the top of the lift she traversed down the hill with remarkable control. The the rest of the morning we spent on long beginner's runs which she skied more speedily each time. Seeing my glances at the steeper slopes, she volunteered to ski alone until we met at 3 p.m. Somewhat reluctantly I agreed and spent the final half hour racing down steep, perfectly groomed runs.

      Just before three I waited for her by the Flight of the Canyons gondola. Soon I saw a slender figure dressed in black skiing confidently in my direction. When she saw me her face lit up and she glided to a stop. "I'm skiing," she cried. "I'm really skiing!"

      And she was.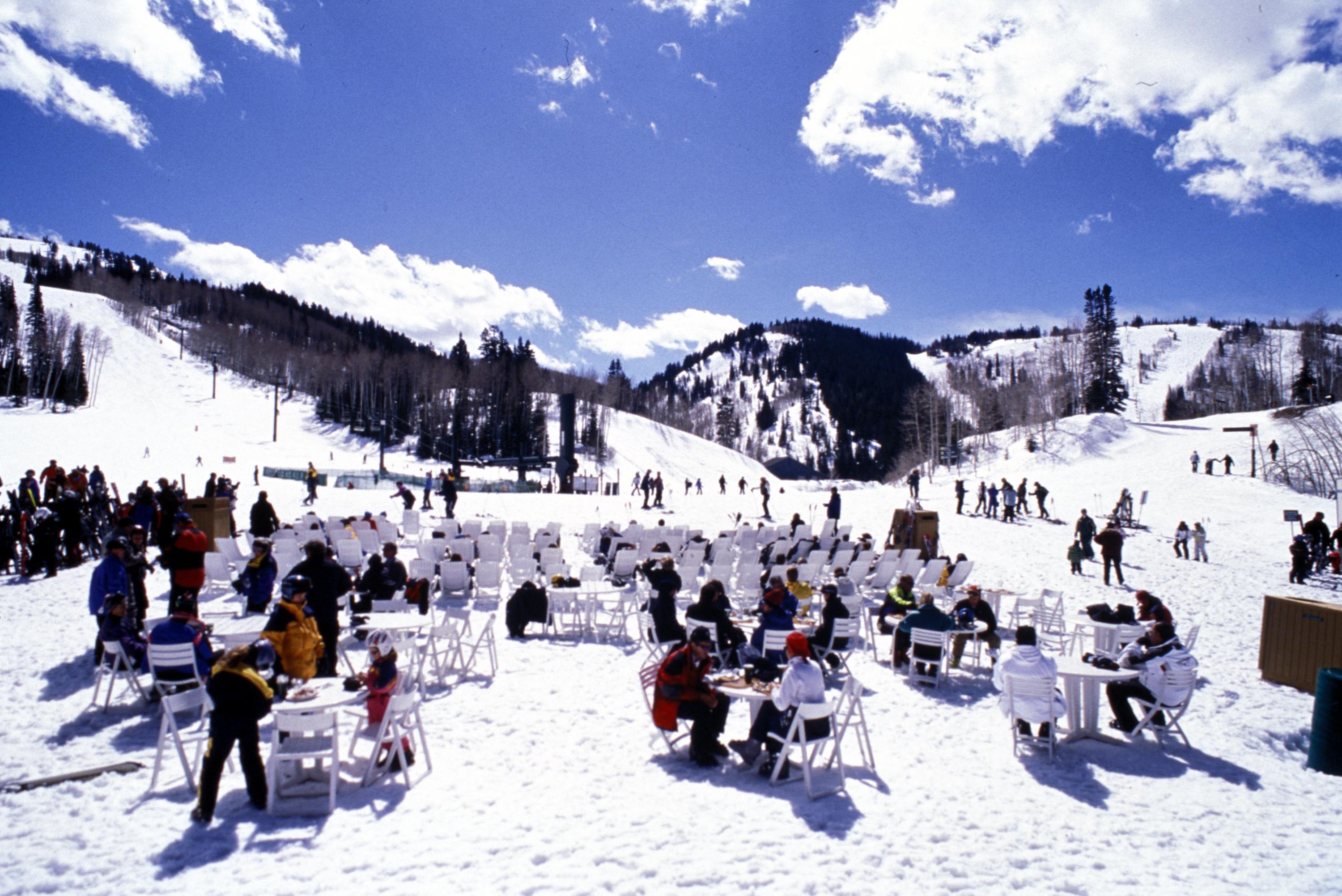 VITAL STATISTICS

        DEER VALLEY RESORT, 800 424-3337, WWW.DEERVALLEY.COM.

        4 mountains. Vertical drop: 3,000 feet. Highest summit: 9,570 feet. 88 runs. 19 lifts. Longest run: 2 miles. Size: 1,700 acres. Glade Skiiing: 800 acres. Ski school. Cross country skiing. Sleigh rides. Snowmobiling. Ski Magazine's #1 ski resort in North America in 2,001. Curbside Guest Attendants. Complimentary ski storage. Complimentary Intermediate and Expert ski tours. No snowboarding. Restricted number of skiers on mountains. Skis shipped to and from resort by Federal Express.

        THE CANYONS, 435 649-5400, WWW.THECANYONS.COM.

        8 mountains. Vertical drop: 3,190 feet. Highest summit: 9,990 feet. 146 trails. 16 lifts. Longest run: 2 miles. Size: 3,500 acres. 30 feet of average annual snow.  "Perfect Turn" ski school. Cross country skiing. Morning and afternoon free guided ski tours. Snow shoeing, dog sledding, snowmobiling. Utah's largest ski area.

        The ski resorts of Deer Valley, the Canyons and Park City Mountain Resort are within minutes of each other. All three can be skied on a single pass. In the days of the wild west, Park City was a silver mining town and is still a real town with year round inhabitants.

        HOW TO GET THERE:

        Salt Lake City International Airport services 379 flights daily from 14 American airlines. Delta, 800 221-1212, www.delta.com, offers more service to Salt Lake City than any other airline. Salt Lake City is also a hub for Amtrak trains. For transportation to the resort, rental cars are available from Hertz, National, Avis and Dollar. For bus, van and limosine service, call Canyon Transportation, 800 255-1841, All Resort Express, 800 457-9457 ext. 2, Lewis Bros. Stages, 800 826-5844, Park City Transportation, 800 637-3803. Transportation takes 30 to 45 minutes from the airport.

        WHERE TO STAY AND WHERE TO EAT, DEER VALLEY:

        The Chateaux, 800 453-3833, www.chateaux-deervalley.com, is a luxury condominium with top quality apartments across the street from the Silver Lake base lodge and lifts. 2,004 Prices range from $175 to $2,590 per unit depending on season and size. The balcony of our apartment looked out at Deer Valley's ski runs.

        Under thick wooden beams, a large kitchen was equipped with a Sub Zero refrigerator, tiled island sink and professional stove. In the living room, a plush sofa and chairs faced a massive stone fireplace. The bedroom contained a king size bed and another fireplace. Two bathrooms with custom toiletries and antique mirrors completed the picture.

        Call Deer Valley Central Reservations, 800 558-3337, for a wide variety of accommodations as well as general information.

        Dining in Deer Valley's lodges ranges from gourmet pizza and focaccio sandwiches to top rated cuisine at the Mariposa Restaurant, 435 645-6715, in the Silver Lake Lodge. Not to be missed: the Seafood Buffet in the Snow Park Lodge, 435 645-6632.

        The Stein Eriksen Lodge, 800 453-1302, www.steinlodge,com, has 170 rooms and suites designed in old-world style with modern amenities. Warm and inviting, it is luxurious without being stiff. Guests can ski from the lodge to Deer Valley's lifts. Of four restaurants, the Valhalla offers gourmet mountain fare. The 4 star Glitretind serves a fabulous Sunday brunch. Reserve before leaving home.

        The Spa at Stein Eriksen Lodge, 435 645-6475 is intimate and lovely while still offering a complete range of treatments given by highly trained therapists.

        The restaurant at The Goldener Hirsch Inn, 800 252-3373, was awarded "Best Restaurant in Deer Valley" in the April, 2,004 issue of Salt Lake City magazine.

        In Park City try Chimayo, 649-6222, Grappa, 645-0636, and the beautiful Wahso, 615-0300, for Asian fusion cuisine. Cafe Terigo and Zoom, 649-9108, for lunch. Bandits, 649-7337, for ribs.

        WHERE TO STAY AND WHERE TO EAT, THE CANYONS.

        Our apartment at the Westgate Resort and Spa, 888 433-3704, www.westgateresorts.com, was bright and new, large and very comfortable. It had a family-size dining table, fully equipped kitchen, stone fireplace, double whirlpool tub and a shower that converted into a steam room. The master bedroom contained a king size bed and a second T.V. Expecially good for families, the Westgate has a huge indoor-outdoor swimming pool, tennis and

basketball courts, a kid's game room and a playground.

        Papillon the Spa, 435 655-2266, is a world class spa with luxurious facilities a wide range of treatments for men and women and expert therapists.

        The Westgate Grill, 655-2260, serves fine food - pan seared sea scallops, Burgandy braised short ribs - and sensational desserts at prices lower than those at restaurants of similar quality. In the Westgate Resort, it welcomes families. The Cabin Restaurant, 615-8060, steps from the gondola, is open all day. Try the blackened salmon for lunch.

        OTHER THINGS TO DO:

        Cross Country skiing at White Pine, 435 615-5858. Shopping at the outlet stores at Kimball Junction. Shopping  and gallery hopping in Park City. The Utah Winter Sports Park in Park City, 435 658-4200, is the place to watch young ski jumpers practice and, if you have the nerve, to ride the bobsled at 75 miles per hour on their Olympic track.