UP CLOSE AND PERSONAL

IN BOTSWANA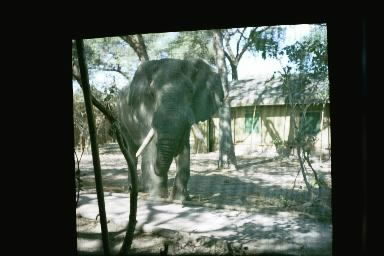 "Please don't walk around alone at night," said Dennis Kampura.

        "During the day you can see the elephants when they come into camp.

        After dark a ranger always accompanies you to your tent."

             The tents the camp manager referred to were were perched on a

        high bank above the bone-dry Savute Channel in Botswana's Chobe

        National Park. Partially enclosing them was a tall fence made of thin

        wooden poles. Below the deck of the main lodge 3 bull elephants were

        dipping their trunks in a small man-made water hole while two more

        moved slowly through low-growing dusty shrubs toward the water.

             Suddenly there was a noise behind us. A knobby head appeared

        above the fence, glided past registration and the gift shop and

        emerged in the parking lot. An enormous, heavily tusked African

        elephant.

             "That's the one that knocked me down yesterday," said Steve

        Venter, the general manager of Savute Elephant Camp. "I was photo-

        graphing and all of a sudden I saw this big head in the viewfinder.

        Next thing I knew he brushed by me, gave me a nudge and over I went."

             Of the 12 tents, I was in number 7, or would be when it came time

        for bed. So, it seemed, was the elephant. Tiptoeing to the deck I

        peeked around the corner and there he was, raising his trunk to the

        roof. The tent shook as if it had been hit by an earthquake. An acacia

        tree that sheltered the tent was hung with tasty pods and the elephant

        was scooping them up. If enough pods didn't fall naturally, Steve

        said, the elephant would give the tree a good shake. As a polite host

        I let him stay, but I wasn't unhappy when he left.

             To someone for whom tenting is synonymous with the Boy Scouts,

        number 7 came as a bit of a shock. For starters it was air conditioned

        during the heat of the day. In the much cooler evening while I was at dinner

        someone snuck a hot water bottle between the sheets. The wooden deck

        led to a very large bedroom furnished with sisal rugs, a handsome

        writing desk and chairs of native woods. Two pristine double beds sat

        under a soaring canvas ceiling. Behind the bedroom was a complete

        modern bathroom with a walk-in shower. This was going to be tough.

             After high tea (little sandwiches, cakes and coffee), Dennis

        conducted 4 guests into the open seats of a rugged Toyota Land Cruiser

        and we left camp on the afternoon game drive. Not far down the sandy

        path a second Cruiser was parked by the side of the road, a sure sign

        of something to see. From their perches, other Savute guests were

        staring at a huge male lion stretched out in the brush not 20 feet

        away. From the size of his tawny belly he appeared to have recently

        eaten. From his total lethargy it was clear he wasn't going anywhere

        soon.

             So we drove on. In the waning light we saw zebras galloping

        across a plain, warthogs trotting with antenna tails in the air and

        herds of delicate impalas. We waited breathlessly while a powerful

        lioness approached from far off and passed within inches without

        giving us a thought. Two hours later when we came back the lion was

        still there, still inert. Except that now he was flat on his back,

        legs splayed in a very undignified manner.

             Before supper I walked home to shower. On the far side of the

        tent was my house guest. When he saw me he flapped his ears, gave a

        snort and charged in a cloud of dust. He didn't mean it though. After

        a couple of steps he stopped, having made his point. By then I was

        safely inside, secure in the knowledge that I was protected from tons

        of irritable pachyderm by a wall as thick as my thumbnail.

             Savute Elephant Camp is one of three luxurious tented camps

        operated by Gametrackers, the Botswana division of Orient-Express

        Hotels. Through African Travel, Inc., a tour company that works

        closely with Gametrackers, I'd arranged to spend two nights in each.

        At one p.m. on the third day I climbed into a six passenger Cessna and

        landed an hour later on the private air strip of Eagle Island Camp.

             If Savute, planted deep in the desert of Chobe National Park, was

        dry, Eagle Island was romantically, peacefully, wonderfully wet.

        Shortly after I arrived, five other guests and I settled into four

        mokoros, long, thin African canoes, and were poled into a placid

        lagoon. "That's an African Jacana," said Tuelo, our guide, pointing at

        a small brown bird hopping with delicate grace from lily pad to lily

        pad. "We call it the Jesus bird because it walks on water."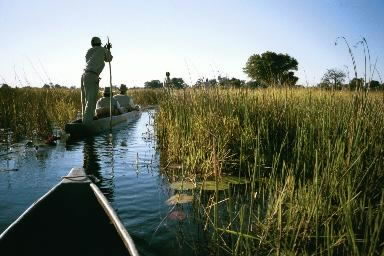 Slowly and gently the mokoros left the lagoon and single filed

        into a vast watery meadow. Acres of golden saw grass slid by. Strands

        of water sage bobbed over our heads. Mounds of bamboo rustled paper-

        dry like a natural sound machine. Each new bird was identified by

        Tuelo: ebony reed cormorants sitting on a branch, white squacco herons

        bursting from the grass, hippos grunting nearby. Hippos? "How close

        are they," I asked, just a bit concerned. "30 meters, in a large

        pool," Tuelo said. "It's too shallow for them here."

             We and our mokoros were specks in a section of the great Okavango

        Delta, the largest inland delta in the world. Its channels and islands

        were created by earthquakes, Teulo explained, and constantly change.

        "Four years ago there were four rivers. Now there are only three." The

        water level, too, rises and falls from year to year and month to

        month, depending on when the rains begin in Angola. What doesn't

        evaporate finally disappears in the sands of the Kalahari Desert.

             By now I was in awe of Tuelo's encyclopedic knowledge. A serious

        but friendly man, he was a member of the predominant Bayei tribe and

        had become interested in nature while at school. "When I graduated I

        studied, studied, studied," he said. "When I passed the theoretical

        and practical examinations I became a licensed guide."

             So we were in good hands next morning when he whispered, "Now we

        are downwind from them." We'd beached the mokoros on Hamerkop Island

        and were walking through a field of "lovers' grass," so-called because

        Bushmen once gave bouquets of it to their girlfriends. Grazing in the

        distance was a small group of impalas, wildebeasts and tsessebes, dark

        brown antelopes the size of ponies.

             Suddenly the stillness was broken by a frantic choking sound.

        "Come quick," Tuelo said. We followed and saw 100 feet ahead the hind-

        quarters of a tsessebe thrashing wildly. The animal turned. Hanging

        from it was a leopard, jaws fixed to its throat. The tsessebe fell,

        its antlers motionless above the grass. We stepped forward and the

        leopard, long and sleek, slipped like a ghost into the undergrowth.

             Amazingly, during the few seconds of the attack, the other

        tsessebes had moved toward their stricken companion instead of fleeing

        the leopard. Now, ignoring us, they came even closer. The antlers of

        the fallen animal moved. Shakily, but unwounded, it got to its feet,

        gathered its strength, and together they galloped away.

             "We saved its life," someone said, and we had. Tuelo didn't

        reply. To the guide, even preventing an animal's death ran counter to

        his belief in interfering as little as possible with the processes of

        nature.

             The contrast between Savute and Eagle Island Camp couldn't have

        been greater, yet the experience of each was enriched by the other.

        The third Gametrackers property promised to be a bit of both.

             Kwai River Lodge was the oldest of the three camps but the most

        recently refurbished, so everything looked brand new. The main lodge,

        very large and very impressive, was open to the elements. The swimming

        pool was heated to take off the chill. The tents, almost identical in

        each camp, were so familiar it was like coming home. The African

        Jacana, skittish at Eagle Island, paraded fearlesly on the lily pads

        in front of my deck. As for game, when we landed on the airstrip a

        herd of zebras, two giraffes and a group of red lechwes, marsh

        antelopes, monitored our descent.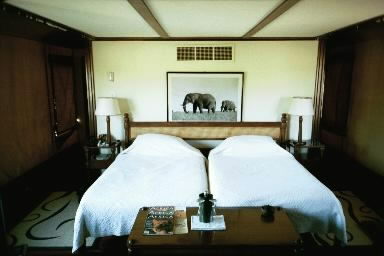 At Kwai River Lodge the tents sit on wooden platforms raised on

        stilts. Mine was the last of 15, more isolated than the rest. Perhaps

        that's why it was so attractive to wild beasts. One afternoon I returned

        to find a warthog browsing under the porch, an animal that had won

        the prize for ugly. And very early next morning I was awakened by the

        sound of waves breaking on a beach. "How nice," I thought, half asleep.

        Then I remembered there are no waves in the Okavango Delta.

             Stepping onto the deck, my eyes slowly became accustomed to the

        dark. Several feet away I made out three large hippos crashing through

        the marsh. From one came a honk that rang across the lagoon. Another

        answered with a low gutteral chuckle. "Got that tourist up," he said.

             "Hello," someone whispered in my dream another morning. "Hello,"

        again, very softly but insistantly until I realized it was my 6

        o'clock wakeup call. For 8 hours I'd slept as if felled by an ax,

        undisturbed by bellow, grunt or screech. By 6:30 I was standing in

        front of the breakfast buffet. "Jungle oats?" the lady asked and

        spooned out a bowl of oatmeal.

             At 5 after 7, early on the morning game drive, Chendo Johnson

        stopped the Land Cruiser. "Lion tracks," he said. "A big male."

        Superimposed on the previous day's tire tracks were distinct, four-

        toed prints. Slowly he followed them until they veered into the bush.

             Johnson, as he preferred to be called, was a big strapping man

        who had worked in the South African mines. Once, he told us, he'd come

        upon a pride of lions. The excited guests jumped up and down,

        prompting a lion to jump up, too, onto the hood of the Cruiser. For

        several long moments Johnson and the lion engaged in a nose-to-nose

        staring match which the guide ultimately won. When he looked back, all

        six guests had disappeared under their seats.

             Suddenly the radio crackled and Johnson sped off to join two

        other Cruisers that had pulled into the bush. Toward us strode a sleek

        spotted cheetah. Fighting to be still in spite of our excitement we

        watched him pad silently by. Johnson turned on the engine and

        followed. For almost an hour we tracked alongside the beautiful cat

        through the undergrowth, stopping when he did to sit by a termite

        mound, when he leaped onto a fallen tree to survey his surroundings

        and when he marked his territory with a spray of urine. At last he

        walked into the forest and was gone.

             Still riding our high, we were driving away when again Johnson

        stopped. Somehow he'd seen, though it was exactly the same color as

        the grass, the mane of a male lion. Slowly he inched the Cruiser off

        the road. When we were ten feet away the lion raised his magnificent

        head, glanced at us indifferently, and flopped over with a thump.

             By 9 o'clock I'd seen most of the animals I'd already collected

        so far on my trip, but in larger numbers and closer. In the early morn-

        ing sun the impalas were more golden, the giraffes more tawny and the

        white stripes of the zebras phosphorescent. At 9:30 Johnson paused to

        give his four passengers a snack. This would hold us 'til brunch at 11

        which would hold us 'til high tea at 3:30 et cetera 'til "sundowners"

        at 6, et cetera 'til dinner at 8. No one went hungry at Gametrackers.

             After dinner we were surprised by the sound of singing. Out of

        the kitchen came the staff, a choir now, presenting us with a concert

        of folk songs. And they were good! Chefs and waiters and bottle

        washers, their voices rang out mightily while we clapped and urged

        them on.

             "Kwai River is the hardest camp to leave," someone said on the

        last day. "because after this we have to go home." I felt the same,

        though it would have been true at whichever camp was last. Several

        times I had to shake myself to remember where I was. It was hard to

        believe that the comfort and cuisine of fine hotels could be found in

        remote desert and delta camps. Or that so much variety could be packed

        into a single week.

             But this was Botswana, the possible Africa. The Africa that's not

        in the news. When good things are reported it will be.

        HOW TO GET THERE: South African Airways, 800 722-9675, flies non-stop

        to South Africa, from New York to Johannesburg (about 14 hours) and

        Atlanta to Cape Town. Their non-stop return is from Johannesburg to

        Fort Lauderdale. One stop to the other cities. Delta Airlines, 800 241-

        4141, is SAA's partner and flies the same routes. From Johannesburg,

        fly Air Botswana to Maun where Gametrackers will meet you and fly you

        to your first camp. Transfers between camps are with light aircraft,

        arranged by Gametrackers.

        AFRICAN TRAVEL, INC. can arrange a complete Gametrackers package from

        departure to return. It's the best way to make a complicated itinerary

        carefree. Call 800 421-8907 Web site: www.africantravelinc.com.

        WHEN TO GO: Botswana's seasons are the opposite of ours. Starting in

        May, winter brings clear, sunny and often hot days, with night tempera-

        tures dropping sharply. Game viewing is best from the May to September

        dry season when game moves from the dry interior to the waterways of

        the Okavango Delta, Moremi Game Reserve and Chobe National Park.

        WHAT TO TAKE: Binoculars, flashlight, sunglasses, sun screen, lots of

        film, extra batteries. Clothing: "casual-elegant" for hotels, casual

        for game camps. It is very important to bring warm clothing for morn-

        ing and evening game drives. During the day I wore convertible pants

        from Ex Officio, 800 644-7303. When it gets warm, the legs zip off.

        USEFUL INFO: Credit cards are accepted by Gametrackers properties and

        give better exchange rates than travelers checks. Tap water is safe to

        drink. The game camps offer complimentary laundry service. "Africa's

        Top Wildlife Countries" and "African Safari Journal," by Mark Nolting

        are excellent safari resources. Web site: www.Africa-adventure.com.

        EXTENSIONS IN SOUTH AFRICA, ACCOMMODATIONS AND DINING:

        In Johannesburg, the Westcliff Hotel is one of the best anywhere. After

        a long flight or a safari vacation, the Westcliff is highly recommended

        for a day or two of unwinding. The Mount Nelson Hotel in Cape Town

        is a South African experience that shouldn't be missed. For both, call

        Leading Hotels of the World, 800 223-6800. Website: www.lhw.com. On

        the Cape Peninsula the Cellars-Hohenort is a perfect getaway. In the

        Winelands, La Grande Roche can't be surpassed. For both, call Relais &

        Chateaux, 800 735-2478. Website: www.relaischateaux.com. The

        restaurants of the above hotels are among the best in South Africa.

        RENTALS: Avis Car Rental offers many unique features in South Africa:

        Temporary Automobile Association membership, complimentary cell phones

        and "Younique Options," an extremely valuable personalized driving and

        itinerary guide. Call 800 331-1212.