A BEGINNERS GUIDE

TO THE

SMALL LUXURY INNS OF JAPAN.

Noone speaks English, so here's how it works:   

You smile and she smiles. She bows and you bow. She says many things to which you answer by bowing and smiling. You may mention your name but it really isn't necessary. You are probably the only non-Japanese within 100 miles. She knows who you are.

You initiate nothing. When someone leads, you follow. Left in your room you stay there until the smiling woman returns with a pot of green tea. Bowing and smiling she serves you the tea and with much gesticulation and repetition of the sound, "bahss," leads you to understand that she is telling you where the hot spring baths are located.

When she leaves, you take in your surroundings. On a tatami-matted floor some 12 by 12 feet square reside a low lacquered table and two chairs with arm rests on the left. Neither of the chairs has legs.

On the walls are a scroll with a delicate brush and ink painting of three sprigs of bamboo and a picture of a Japanese ideogram. A bamboo vase holds a single blossoming cherry branch. The walls are beige as is everything else, but in several subtle tones. There are five rooms in all. Each can be enclosed by shoji screens that slide on tracks for complete seclusion or open to enjoy views of the outside gardens.

You can't help loving these rooms. The proportions, the elegant simplicity, the delicate lighting and restful colors massage your psyche until it sighs in total submission.

Of course you've put on your yukata (the lighter of the two robes you found in your room). You wonder why pants and shirts and shoes were ever invented. Why anything that binds was ever applied to the human body.

You are at Yumeya, a ryokan or Japanese country inn. Onsen, the natural hot springs that burst through Japan's crust by the thousands, are less familiar to Americans. Some onsen have ryokans, but most are served by enormous hotels in bustling resorts. With only 10 suites and its own private hot spring, Yumeya qualifies as a country inn with an onsen.

It is not, you realize, what you expected, a massive, crumbling set from a Kurosawa movie with Toshiro Mifune strutting in the foreground. It has a contemporary conference room and - are you ready? - an electric toilet seat for a warm you will never forget. And with its beautifully proportioned rectangles and contrasts of brown and gray, Yumeya appears familiar, modern.

The reason is that ryokans provided the inspiration for a generation of Western artists

and architects whose works we've known for years.

Traditionally, because the best ryokans are expensive, Japanese couples and families only overnight in them on very special occasions. But there is much to see in the hot springs areas so overseas visitors should ideally spend more time. Teramadori is a beach town not far from Yumeya in whose fish markets you find creatures plucked from the Sea of Japan that you never imagined existed. In the afternoon small fishing boats come in with their catch and Yumeya's chef bids for the best specimens at a lively, free-for-all auction. Spectators can watch, not buy.

Then there is the soaring Yahiko Shinto shrine with its gold-trimmed wing-like roof. Or a day trip can be taken to Sado Island where Robert de Niro buys sake for his Nobu restaurants. The fame of the sake is due to the purity of the region's water and the qualiity of its rice. Some of the most glorious rice terraces in Japan are only an hour and a half away.

But one of the chief reasons you've come to this ryokan some 20 minutes from Japan's northern coast is for the hot springs. When

you've worked up the courage, you pad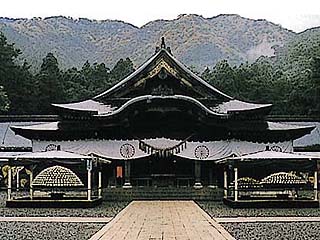 down the hall to the doors marked "ladies" and "men" in Japanese and hope you open the

appropriate one. Inside you put your yukata and towel in a basket and enter the spa room dressed as you were when you entered the world.

And here is what you do:

If someone has preceded you, you do exactly what he or she does. If not, you take a round wooden bucket from a pile. On a low seat you sit before a faucet and fill the bucket with hot water. This you toss over your head, lather up with a nearby dispenser of liquid soap and rinse off. Only when you are squeaky clean do you gingerly enter the pool that invites you into its serene and crystal depths.

At this moment you may be reminded of the scene in "Annie Hall" when neither Woody Allen nor Dianne Keaton can bear to put lobsters in boiling water. From now on you will forever be on the side of the lobsters.

The temperature of the springs that Yumeya channels into its baths is 41 degrees centigrade, not as hot as some, but hot enough to require immersing your body bit by bit. You sit on the edge, then drop to the ledge, and finally set your bottom on the bottom so that only your red face glows above the surface.

This first bath in mid-afternoon is a test. The second, sometime after dinner under a jet-black sky in the private tub outside your room, is revelation and conversion. The third, next morning before breakfast, is confirmation of what you know can become an addiction. For onsen bathing is surely one of life's peak experiences, Japan's version of the universal compulsion to subject one's body to almost unbearable heat in pursuit of a primal, womb-like tranquillity.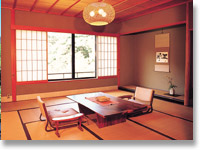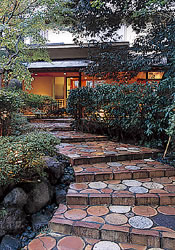 "What I do every day is to introduce the culture and history of our town to our guests," says Jiro Takeuchi, General Manager of the Kayotei Inn at Yamanaka Spa. Unlike most ryokan managers, Takeuchi is male and speaks excellent English. "Of 10,000 people in Yamanaka, ten percent are craftsmen. It's a town of art, culture and history."

Indeed, a visit he arranges to the workshop and home of Yasahiro Satake, a master creator of Yamanaka lacquerware, proves a highlight of the trip. And time is well spent in the shops and showrooms of the easy-to-walk town for the world famous pottery as well.

As it is in the city of Kanazawa, an hour away. Big and busy, Kanazawa also contains wonderful neighborhoods of old geisha and samurai houses, hills dotted with temples and one of Japan's most beautiful gardens.

Like Yumeya, Kayotei has only ten suites. This may lead to the conclusion that both are small. The opposite is true. One American guest wandering shoeless - as is the rule - through Kayotei's tatami-matted halls, its quiet sitting areas with views of inner gardens and several dining rooms, found himself navigationally challenged. "I'm lost," he said to the first kimono-clad employee he saw. She smiled and led him home.

Just below Kayotei an easy walking path weaves through a mile-long gorge. In spring, guests can accompany the chef on a morning walk to gather mountain vegetables which are served for dinner that evening. "Everything is found locally and changes according to the season," says Takeuchi. "Everything we serve is fresh."

At 6 p.m. there is a gentle knock on your door. Your personal assistant, Chiyoko-san, manages the three-fold feat of bowing, smiling, and holding a tray. Kneeling, she sets the tray by your table and places on it individual works of art: colorful geometries of food and ceramic and lacquerware, arranged in a precise mosaic so neat and attractive that to disturb them seems a violation.

But she urges you on. This sauce, she indicates, is for the sashimi, that one is horseradish for the steak. This is for the abalone, that for the whole fried fish that goggles at you from its

hand-painted plate. She pours hot broth in a gleaming bowl of vegetables and into another to cook a raw egg and noodles.

If you were to count them - and of course you do -  you would identify 15 separate categories of food: Nimono - duck and vegetable soup, Zensai - six "small amusements" including sea eel and broad bean, Yakimono - baked river fish, Sashimi - raw tuna and shrimp, Nakazara - baked lobster with sliced almond, and on and on.

Awe-struck, a bit bewildered, you work you way through the exotic feast, loving most things, tolerating one or two others (the vinegared fiddlehead ferns,) passing on the snail speared by a toothpick. Throughout it all you feel like an explorer in a strange land (and indeed you are) and proud of yourself for your spirit of adventure.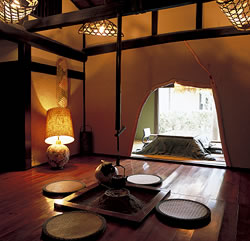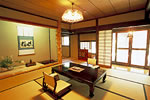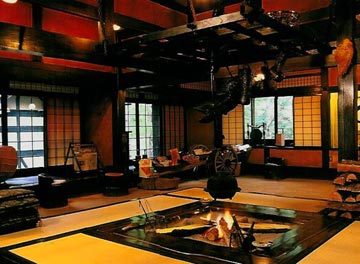 After the smiling, bowing, kneeling maids of Yumeya and Kayotei, Ms. Kabeya comes as a bit of a shock. Dressed in pants, a red shirt and boots, the ruddy-cheeked manager of Wanosato is arranging an armful of newly cut early autumn branches in a container near a small reception desk. In the center of the adjacent inori, the traditional family room, embers in a fire pit warm an iron pot hanging on a thick chain attached to the ceiling.

Wanosato's eight suites - sizable enough to require four substantial buildings to house them - have soaring ceilings and walls of glass that bring the gardens on one side, the mountain on the other and the stream that tumbles in between to your doorstep.

Deep in the Japan Alps National Park of North Central Honshu, Wanosato is surrounded by a densely forested range broken by coiling rivers. It is an area of striking beauty, lush green in summer, white with snow in winter. Far different from the rich elegance and purity of line of the other ryokans, Wanosato is a country inn with the emphasis on "country."

For "city" there is Takayama, a 20 minute drive away through flourishing rice fields. At first blush it looks as modern as most of Japan, but deeper investigation reveals the small town inside. Two morning markets are modest affairs where farm ladies sell what has just been picked. On side streets off busy shopping arcades you discover rows of buildings dark with age. These old houses, the temples and shrines, the parks and museums make visiting Takayama a very pleasant thing to do.

Even more pleasant is returning to Wanosato. For dinner Mrs. Kabeya has donned a kimono, but her cheeks are just as rosy and she is just as hearty. For contrast there are delicate little Japanese maids who spoil the guest with cheerful caring service.

After another incredible feast, a difficult choice must be made. Do you soak in your private hot tub or take the chance of having to share the rugged natural stone onsen in the main building?

By now you don't know how you managed without these baths. After letting your food settle, you slide once again into the enfolding thermal spring. Upstairs, along the empty corridors a man has begun turning off lights. Though there are cars in the courtyard, the ryokan seems empty. All the guests are ensconced in their shoji cocoons and you are glad to follow suit.

When you return to your suite, the table in the second room is gone, replaced by a futon with a thick comforter. You step out of your slippers, drop your yukata, and lay your head on a pillow that smells vaguely of corn husks.

Then, with a body as tenderized as a piece of choice Kobe beef, you fall into the oblivion of sleep.

Yumeya, Kayotei and Wanosato are members of SMALL LUXURY INNS OF JAPAN, an association of the country's highest quality ryokans and onsens. Because only Japanese is spoken at many of them, American clients are provided with cell phones and a 24 hour hot line to an English-speaking staff member who will answer questions and help solve any problems that may arise. Clients are also given an English explanation of ryokan etiquette. Small Luxury Inns of Japan can pre-arrange complete packages of transportation and transfers, itineraries and sightseeing, car rentals and other types of accommodations. For information, call Hiroshi Kuchiki at (011 81 762) 24-8580, (011 81 762) 24-8581 (fax) or kuchiki@magellanresorts.co.jp (e-mail). www.magellanresorts.com.
Jiro Takeuchi, the English-speaking General Manager of Kayotei, will also make travel arrangements. Tel: (011 81 761) 78-1410. Fax: (011 81 761) 78-1121. E-Mail: hidejiro@quartz.ocn.ne.jp. Telephone and fax format: 011 (international operator), 81 (Japan
country code), city code, local number.

HOW TO GET THERE: ANA (800 235-9262, www.fly-ana.com) flies non-stop to Tokyo from New York, Los Angeles, San Francisco, Washington and Honolulu. If flying first class, check to see if "the world's widest bed," ANA's fully reclining, total privacy seat has been installed on your flight. Also inquire about ANA's hands-free, door-to-airport Sky Porter service.
WHERE TO STAY IN TOKYO: The FOUR SEASONS HOTEL AT MARUNOUCHI (800 332-3442, www.fourseasons.com/marunouchi) is a serene refuge from crowded Tokyo. With only 57 rooms and suites and occupying 5 floors of a 31 story office tower, the hotel has the feel of a private club. The gracious English-speaking staff provides wonderfully friendly, personalized service. 42 inch plasma televisions, down duvets and  pillows, traditional Japanese baths and custom-designed furniture and fabrics typify the modern yet welcoming luxury of the interior
design. Ekki, its sophisticated and intimate restaurant, is presided over by the former sous chef of the 3 Michelin star Le Cinq in Paris.

The rooms at the GRAND HYATT AT RIPPONGI HILLS (800 233-1234, www.grandhyatttokyo.com) are full of pleasant surprises: the safe in the desk drawer that charges your laptop, the Bose speakers for the flat-screen T.V., the huge glass enclosure for the soaking tub and two separate showers, the push button blackout curtains for a solid
night's sleep, the king-size bed with Egyptian cotton sheets. With 389 rooms and suites, the Grand Hyatt is a big hotel in Tokyo's newest multi-billion dollar development project. Four exclusive Grand Club floors offer member guests private check in, their own breakfast

room and all day refreshments. The hotel has 9 fine restaurants ranging from Oriental to American to French and Italian.

The ANA STRINGS HOTEL (011-81-3-4562-1111), www.stringshotel.com) is more moderately priced with smaller rooms but is beautifully designed and luxuriously furnished. A stunning lobby of wood and stone on the 26th floor of a modern skyscraper has ceilings that vault 7 stories to the top of the guest room floors. A glass bridge crossing a shallow pond connects the top rated French and Chinese restaurants, the latter with great views of Tokyo Bay.
FOR FURTHER INFORMATION contact the Japan National Tourist Organization at 1 Rockefeller Plaza, Ste. 1250, New York, NY 10020, 212 757-5640.