Not everyone was happy when penguins invaded South Africa.

         On the one hand it meant more tourism, a plus for the economy. But

         it also meant more tourists, who are not everyone's favorite people. 

         My friend and I were tourists and we had to see them.

             "In 1987 my husband would dive here," said our guide, Pam Allan,

        as we approached Boulders Beach, where the penguins had suddenly

        arrived in the mid 1980's. "My daughters would crawl through the rocks

        to see them."  As if on cue, a pert black and white bird sauntered

        by. Then we spotted more, nesting with fluffy babies. On the crescent

        beach hundreds of penguins rested on the sand, cavorted in the sea or

        strutted about like pompous Charlie Chaplins.

             "Neighboring humans have complained about the noise," we read in

        a brochure. "Especially at night when penguins are most vocal. And of

        the smell of the guana." So we didn't have to feel guilty after all.

        It wasn't the tourists the locals didn't like. It was the penguins.

             17 hours to anywhere is a long time. Unless half of it is spent

        sleeping in a roomy South African Airlines business class seat.

        Arriving in Cape Town, we sidestepped the city and went straight to

        the Cellars-Hohenort Hotel. A friend had advised us to take the scenic

        Route to the Cape of Good Hope with a penguin stop on the way. The

        Cellars-Hohenort was perfectly positioned for the trip.

             Separated by the gardens for which they are famous stood two

        grand country houses. The Cellars had cooled the wines of a farm that

        dated to 1693. The adjacent Hohenort was a gabled manor that replaced

        the original farmhouse. From a tiled veranda we looked at velvety

        lawns, a large swimming pool and rows of grapevines. "In the summer we

        have baskets of grapes all over the hotel," said our hostess.

             But winter is iffy in the Cape Peninsula. Table Mountain, the

        spectacular landmark that soars over Cape Town, was lost in mist.

        On our coastal drive cliffs fell precipitously beneath us into the

        Atlantic Ocean but the mountaintops were lost. We had to settle

        for the roaring winds that sailors face with terror and the

        promise to return. And the penguins, of course.

             If South Africa is a third world country, you wouldn't know it in

        Cape Town, the essence of a well-run modern city. With a world class

        waterfront, modern shops and impressive public buildings, it also

        bears witness to a new national consciousness. As in the fascinating

        District Six Museum, a living memorial to the thousands of "coloreds"

        who had been forced from their nearby neighborhood during the well

        remembered Apartheid.

            Just an hour out of town, hillsides are combed with low-growing vines.

        Above,  rugged spires of barren rock rise like grim sentinels over the

        delicate green foothills. Drives lead to old Cape Dutch estate houses,

        their white double-story gables looking strikingly like those on the buildings

        lining the canals of Amsterdam. This is the Winelands.

             Many of the wineries can be visited, but we chose Vergelegen.

        Surrounded by gardens and massive 300 year-old trees, the manor house

        was painted the buttery ochre preferred by the original settlers. The

        winery itself perched high on a peak girdled by vineyards.

             "We have a cellar where we mature almost 300 local wines," said

        Horst Frehse, our host at La Grande Roche, where we stopped for lunch.

        Long a delapidated collection of farm buildings, La Grande Roche had

        been transformed into a gorgeous 5 star country inn and one of South

        Africa's finest restaurants. From the loggias of private suites ran

        rows of vines, leaves russet in late May, the southern hemisphere's

        early winter.  "At sunset the mountains in the distance turn deep red,"

        said Horst. "Our guests love that."

              By now we knew that the best of South Africa is as good as it gets.

        But long years of segregation have left another legacy. On one

        memorable day Pam brought us to a "township" called New Rest. It was

        an experience not to be missed.

             "We said, 'This is our new resting place. We are not prepared to move,'"                     Thando Sekune told us as he led us through the settlement of makeshift

        shacks. After years of struggle, the residents of New Rest are pioneers in a                    project enabling them to acquire the skills to build new homes and new jobs.                 Everywhere we saw signs of hope, especially in the exhuberance of the

        children in New Rest's pre-school "creche" who smothered us with affection.

             "Extraordinary people come here," said Lindie Gillespie of Cape

        Town's Mount Nelson Hotel where we spent the next two nights. "Presi-

        dents, film stars, Arab sheiks." We felt right at home.

             The Mount Nelson is a Cape Town treasure, more English than

        England, with china dogs, chintz curtains, meandering halls and spotless

        guest chambers. And a staff whose welcoming smiles and charming manners               go far beyond good training. Dinner was served  in a half moon bay where

        delicious chunks of smoked crocodile were followed by a succulent loin of                    springbok. We were in Africa after all

.

             On the fifth morning we boarded the celebrated Blue Train.

        Entering compartment 34 was like stepping into a Faberge egg. There

        was a little table and chair, a small blue sofa and tiny ottomans, a

        wee closet enclosed in sleek paneling with bright brass fixtures. The

        amazingly compact bathroom featured a marble sink and step-in tub.

        Wrapped in our luxurious cocoon, all tensions slipped away.

SOUTH  AFRICA

  AT ITS BEST

"I'm from the Moriches," said Gawtun our waiter as he handed us the lunch menu. Unaffected by the motion of the train, he poured a South African Shiraz without spilling a drop. Venison steak and pumpkinseed-dusted "line fish." topped the bill. Then cheese and dessert trays, and "teas and coffees in the lounge."

            After dinner we returned to find our room changed into a double                       bedded sleeper. Rocked in the gently swaying train, we slept across the             desert in the deep African night.

             At the Pretoria train station, our Avis car was waiting. So was a                          "Younique Options" notebook, a customized guide complete with maps             and driving routes, local brochures, phone contacts and suggested

        sight-seeing. For he next four hours we followed the step by step itinerary          through vast empty grasslands into the foothills of the Drakensburg                    Mountains. As darkness fell we pulled up at Cybele Forest Lodge.

             Cybele is the kind of place you don't want to take home. You want

        it to be home. Our suite was white stucco walls and black log beams,

        massive pine wardrobes, king size bed and gleaming, oversize bathroom.

        A comfy couch on a dhurrie rug faced a fireplace in which logs were

        soon crackling. Outside, a high wall kept our private swimming pool                     private. Later, with  a small band of equally fortunate guests we dined the           evening away. Then we walked home under a basketfull of  stars to our               cottage nestled in the forest.

             An hour from Cybele lions roar, monkeys chatter, elephants

        trumpet and the Avis car gets dropped off. From Skukuza airport we

        were driven across a flat, arid wilderness. Suddenly, after an hour, a

        half dozen cone-shaped hills popped out of the earth for no apparent

        reason. On one was the Rock Lodge of Ulusaba Private Game Reserve.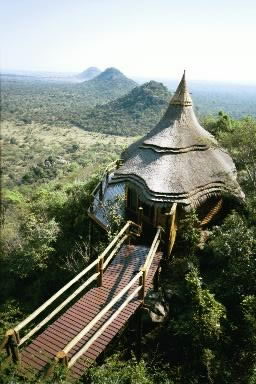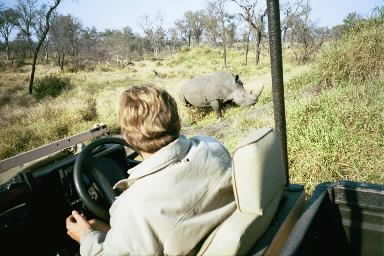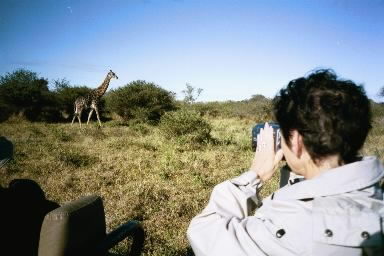 Behind us a troup of baboons hunkered down on the branches of a merula tree. Just beyond, a kudu stag watched over his harem. Through his earphone Rowna heard that another ranger had found buffalo. In 5 minutes we were rubbing shoulders with bulky cows giving us the evil eye.

           As for our room, what to say? The double height ceiling floating

        over a huge bed draped with pure white netting? The furniture carved

        out of native woods? The bathroom with custom-made ceramic double

        sinks, clawfoot tub and shower walled in glass? A loo with a view!

             Ulusaba's two lodges are set in a vast private game reserve

        sharing a border with Kruger National park, as big as Massachusetts.

        Next morning we piled into an open Land Rover. Above the left bumper

        sat Sinjas, our tracker. Nico DeLange, a big boyish blond who wore bul-

        lets in his belt, got behind the wheel. "Where's that rhino?" he said.

             Nowhere, it seemed. But just off the dirt road an elephant was

        ripping branches off a teak tree. "He chews the bark off," Nico said,

        "and a toothpick comes out the other side." Suddenly, in the grass by

        the side of the road, someone spotted spots. Very calmly a magnificent

        leopard stepped out, turned its head and solemnly slipped away.

             Around 9 AM we were driving slowly past an open meadow when Nico

        pulled off the road some 40 feet from an enormous rhinoceros. Its

        head, except for an extremely sharp horn, was hidden by the grass it

        was eating. "He's the one that gave the vehicle a shake yesterday,"

        Nico said. "He's very relaxed today."

             Right.

           The beast munched its way toward us until he was five feet away.

        Then he raised his head and fixed his beady eyes on us. "Nico!" some-

        one said with alarm. "Is he coming?" Nico asked, a tone of urgency in

        his voice. Then he switched on the engine and got us out of there.

             We told the tale at a sumptuous buffet lunch on one of the

        terraces. Then we siesta'd until the afternoon drive which turned into

        a night drive when the sun dropped below the horizon. Sinjas sat on

        his perch playing a hand-held light from left to right. For a while

        there were only scattered spottings of impalas, kudus, elephants,

        giraffes and hyenas. The regular stuff. Then, out of the murk emerged

        a lioness and her cub. "They're on a hunt," said Nico. Enthralled, we

        silently watched as they padded purposefully by, stopping to sniff the

        air. Then they faded back into the gloom.

             After three days at Ulusaba we transferred to MalaMala Game

        Reserve, an hour to the south. Four hours after our arrival we were

        seated in a Land Rover not 15 feet from three female lions resting in

        the grass. Suddenly a tiny head, bright-eyed and fuzzy, poked out from

        under a bush. Only months old, the cub tottered over to a female,

        flung itself at her, and began filling its little round belly.

             The largest of the private reserves, MalaMala shares 20 miles of

        border with Kruger. One morning our drive was delayed because of a

        light rain. Waiting, we lounged on a wicker couch in the spacious

        sitting room next to an even larger bedroom decorated with African

        paintings. On either side of the beds were twin bathrooms. "Marriage

        savers," owner Michael Rattray called them.

             As we looked through the sliding glass doors, two waterbucks

        stepped into the field. Then a black-faced monkey landed on the deck

        with a plop. On an overhanging branch, a goggle-eyed baby clung to its

        mother. Soon the entire extended family had come to visit. By the time

        the weather permitted our game drive, the game had come to us.

             "What a waste," we thought an hour later. We'd been searching for

        a huge herd of cape buffalo and had come up empty. Periodically our

        ranger hung his head over the side of the Land Rover looking for

        signs. Each cowflop was a reason for optimism. Then we rounded a turn

        and saw, not buffalo, but zebras. Beautiful animals with muscular

        haunches, some bore terrible scars where they'd been mauled by lions.

        As we watched, a head, then another appeared above the trees. One by

        one, six lissome giraffes loomed over the zebras.

             Within touching distance two young bulls pushed and shoved,

        locked horns and twisted necks until it seemed at any minute that tons

        of buffalo might be sitting in our laps.

             After three days, we flew the South African Express shuttle from

        Skukuza to Johannesburg and the Westcliff Hotel. Like a pink fantasy

        it sprawled on a hillside overlooking the city. Our suite was a

        knockout, the views from the sky-high swimming pool, incredible.

        Gardens, fine food, great service. The only way to end a vacation.

             While packing for our return to the States we came across a check

        list of some of the hundreds of animals and birds found in South

        Africa. We were amazed at how many we'd seen, yet there were at least

        as many more we hadn't. But South Africa is like that. The most common-

        ly heard sentence was, "If only we had time for...." As the tourist

        board loves to say, South Africa truly is the world in one country.

        HOW TO GET THERE: South African Airways, 800 722-9675, is the only

        airline flying non-stop to South Africa, from New York to Johannesburg

        (about 14 hours), and Atlanta to Cape Town. Their non-stop return is

        from Johannesburg to Fort Lauderdale. One stop to the other cities.

        It's subsidiary, South African Express, flies from Skukuza Airport in

        Kruger National Park to Johannesburg. Delta Airlines, 800 241-4141, is

        SAA's partner and flies the same routes to South Africa.

        WHEN TO GO: South Africa's seasons are the opposite of ours. Cape                     Town winters - June, July, August - can be wet and cool or absolutely

        beautiful. The same months are best for game viewing in the northern

        parks where it is the dry season and animals congregate around water

        sources. Winter daytime temperatures there are like our early summer,

        delightful. Before sunrise and after sundown the temperature drops

        dramatically. Dress appropriately to be comfortable.

        TOURS - CAPE TOWN: Wilderness Safaris arranges tours to the Cape of

        Good Hope, the Winelands, Table Mountain and customizes excursions for

        individual needs such as shopping, museums, restaurants, etc.

        Especially recommended is a tour to a "township," where black South

        Africans were settled during the Apartheid era and most still live. To

        book call The Africa Adventure Company, 800 882-9453. E-mail

        noltingaac@aol.com. Web site: www.Africa-adventure.com.

        ACCOMMODATIONS AND DINING: In Cape Town, the Mount Nelson Hotel            and in Johannesburg, the Westcliff Hotel are two of the best anywhere.                  After a long flight or a safari vacation, the Westcliff is highly recommend-

        ed for a day or two of unwinding. The Mount Nelson is a South African

        experience that shouldn't be missed. For both, call Leading Hotels of

        the World, 800 223-6800. Website: www.lhw.com. On the Cape Peninsula,

        the Cellars-Hohenort is a perfect getaway. In the Winelands, La Grande

        Roche can't be surpassed. For information about both, call Relais &

        Chateaux, 800 735-2478. Website: www.relaischateaux.com. The

        restaurants of the above hotels are among the best in South Africa.

        THE BLUE TRAIN: Book through your travel agent or The Africa Adventure

        Company, 800 882-9453. Web site: www.bluetrain.co.za.

        CAR RENTALS: In South Africa Avis Car Rental offers temporary

        Automobile Association membership, complimentary cell phones and the

        "Younique Options," an extremely valuable personalized driving and

        itinerary guide. Call 800 331-1212. Web site: www.avis.co.za.

        GAME LODGES: Ulusaba is one of the most luxurious game lodges in the

        world. Call RMI Resorts, 800 557-4255. Web site: www.ulusaba.com.

        MalaMala has been rated best in its category by both "Conde Nast

        Traveler" and "Travel & Leisure" magazines. Book through your travel

        agent or The Africa Adventure Company, 800 882-9453. Web site:

        www.malamala.com.

        WHAT TO TAKE: Binoculars, flashlight, sunglasses, sun screen, lots of

        film, extra batteries. Clothing, "casual-elegant" for hotels, casual

        for game lodges. It is very important to bring warm clothing for

        morning and evening game drives. During the day I wore zip-off pants

        by Ex Officio, 800 644-7303. When it gets warm, the legs zip off.

        USEFUL INFO: Credit cards are accepted by all the above properties and

        give better exchange rates than travelers checks. Tap water is safe to

        drink. Both game lodges offer complimentary laundry service.

        RECOMMENDED READING: "Insight Guide: South Africa" is an in-depth               over-view of the history, culture and highlights of the country. "Africa's

        Top Wildlife Countries" and "African Safari Journal," by Mark Nolting

        are excel

lent safari resources. Web site: Africa-adventure.com.

        At the top of the hill a                   free-form swimming pool                 commanded breath-

    taking views of miles of open         shrubland. Wooden staircases      linked a series of viewing and        dining decks. Groups of                  African sculpture and                       artifacts graced every corner.        In the main lodge fabulous              dinners were served to no              more than 24 guests sitting by       a wall of glass. On the level             below, a game and music                salon was literally carved out         of rock.