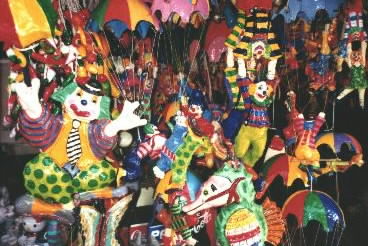 THE ARTISTRY

OF

SAN MIGUEL DE ALLENDE

     It's 6:30 AM and I'm lying in bed wide awake. I don't know how many churches there are in San Miguel de Allende, but starting at 5:30 they all go into a frenzy of bell ringing. Not once an hour as in any normal country. Every 15 minutes. This is Mexico. They want you up.

     At 7 o'clock I am, but not gladly. Then I go outside and there's a special softness to the light. The cobblestone streets are empty and the rich earth colors of the houses that line them are glowing. I reach          for my camera and before I know it I've shot two rolls and I'm beginning to understand why so many Americans have moved here.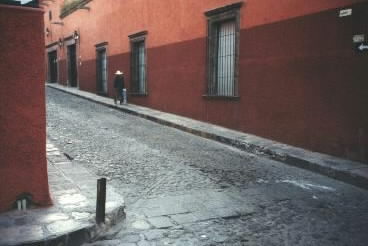 "I came in 1968 and stayed," says a woman known only as Sidell. "There were 15,000 people. I bought  my milk off a burro and pasturized it myself. A not great house cost $30 a month to rent. I had 3 children so I paid $100 for one with 7 bedrooms. There were no cars, 2 or 3 taxis, no telephones. I'd wait in the square to see who got off the bus from Mexico City. It was very exciting."

     Things have looked up for Sidell since then. The hand dyed and printed silk clothing she makes is displayed in a boutique of the same name in her home at number 117 Quebrada Street. Like all the houses in San Miguel it is hidden behind a modest exterior. And like so many, when you open the door you step into a magic garden.

      Sidell's is vast. As if a large yard had been plucked from a suburban home and plopped behind city walls. Around it are the rooms of her house and her shop. The style is Spanish Colonial, and San Miguel de Allende, a Mexican national monument, is one of the most famous colonial towns.

      "In 1951 a Peruvian artist, the former governor of Guanajuato and Nell Harris from Arkansas got together and founded the Instituto Allende," says Jaime Martinez, the institute's current director. "The governor and Nell Harris were my parents."

      In those days San Miguel was little more than a village of narrow streets that ran up and down a hill past old Spanish houses and churches. But among the colleges and universities that qualified for the G.I. Bill of Rights was the Instituto Allende. Soon it was ringing with the sound of American warriors.

      "The idea was to attract artists, teachers and students from other countries who would learn the Mexican culture and have an exchange of ideas," Jaime says. "We had an international staff as well as craftsmen in the area with generations of tradition."

      "The teachers were really fine artists," says Sidell. "Those of us who stayed fell in love with the culture and the people." Now San Miguel has a population of several thousand expatriots. They live here for the weather, mild in winter, not too hot in summer, the clean fresh air, the beauty of the town and the friendliness of its people. Not to mention the prices which, in spite of San Miguel's popularity, are still lower than in the States.

       Reading about San Miguel, it's easy to get the impression that Anglo chic has replaced the original Spanish-Indian blend. On Sundays a line of pale skinned, retirement age men and women forms outside the  public library. Around them surges a tide of darker faces, men wearing cowboy hats, women with distinctly Indian features. They smile in recognition of the familiar scene, then walk on to the Plaza Civica where everyday necessities are available in small shops and street vendors sell pastries, fresh cut fruit and hot tamales.

       A block away, displays of metal lanterns, hand made rugs, and brightly colored masks and dolls are mostly for tourists. But upstairs Indian women sit stoically next to piles of fresh vegetables and dry beans. On griddles tortillas are warming, ready to wrap around mysterious ingrediants bubbling in pots. San Miguel is still very much a Mexican town.

       Back at the library the courtyard is awash with gringos. After the market they seem so polite, so reserved, so...repressed...as they wait until it's time to board the busses. Almost 300 houses are visited          by the House and Garden Tour on successive Sundays. The first visit this day is to a new home in the surrounding hills. The owner greets the strangers while volunteers guide them through the best of Mexican

design and American high tech.

      At the second house a casually dressed man watches a football game in a spacious room whose walls are hung with paintings. Bruce Hayes has a degree in fine arts, but temporarily gave up painting for          advertising. "In 1970 I moved here with my ex-wife and 3 kids," he says. "If we'd had to exist on my art we'd have been living in the park. I'm not what you'd call a Bohemian. But I paint every day."

      The third house on the tour also belongs to Bruce Hayes, which just goes to show that not all artists are starving. His wife, Page, and her great dane, Salsa, welcome three busloads of ticket holders into their home in the historic district. They file into the house and the house simply soaks them up. The rooms of the first floor, whose 22 foot-high ceilings soar above thick stone walls, enclose a courtyard where a tree laden with oranges and a huge fountain compete for attention. "The fountain only looks old," Page says. "The craftsmen here can copy anything. I showed them pictures and they made it."

      The 1750 mansion is renowned for having been the residence of Santa Ana, famous here, infamous in Texas. A second story balcony runs the perimeter of the court and leads into a series of elegant bedrooms, sitting rooms and baths. But isn't it noisy in town? "I love it here," Page says. "We have a parade at least twice a month. Indians come in from the countryside and dance for hours. It's a lot of fun." The parades are just the tip of the iceberg. It seems there's a festival almost every week. San Miguel hosts chamber music and jazz, National fairs, film festivals, lectures and theater performances, even a Celtic Week.

     The colonial town was born in 1542 when friar Juan de San Miguel founded a community in an area inhabited by Indians. Over time churches and magnificent mansions were built, one at the corner of the Jardin, a leafy central square. This was the home of Ignacio Allende, a leader of Mexico's War of Independence. The aborted uprising led to his capture and beheading. But in 1826, the words, "de Allende" were added to the name, "San Miguel."

     San Miguel de Allende prospered and declined, and by the time the Instituto Allende was established many of the old homes were in ruin. They might have remained so if it weren't for the G.I.'s who brought        back the word that they'd discovered something special.

     "They used to say if you sat in the Jardin you'd see everybody in town," Sidell remembers. Today that park is still the focus of the community. But now Indian children race Razor scooters around corners past stands where their elders sell roast corn. Benches are full of young lovers and older ex-pats who gather in the balmy evenings. When it's dark a mariachi band wielding trumpets and violins surrounds hapless couples who only want to be left alone. The musicians must be anarchists because each of them plays in a different key.

       Soaring over it all is La Parroquia de San Miguel Archangel, a grand cathedral whose pink sandstone is wonderful to see just before dusk. Though the facades of the historic district's houses are as authentic as they were centuries ago, behind many hide luxurious modern homes, crafts shops, galleries, fine restaurants and hotels.

       The Casa de Sierra Nevada is one of the finest. Ten colonial houses of the 16th century have been transformed into 37 luxury suites with skylit rooms, arched passageways, curved corner fireplaces and          Mexican-tiled bathrooms. Some have balconies that overlook courts spilling with bougainvillea, and views past rooftops garlanded with potted flowers to the steeples of la Parroquia.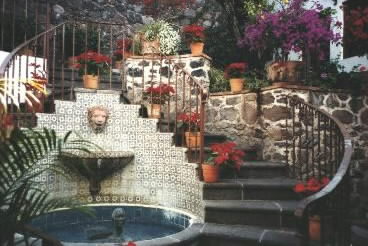 La Puertecita is a hotel of the same high quality but is chosen by those who prefer to be away from the bustle and bells of downtown. Up the hill from the historic district, its pure white buildings are punctuated by blazing flowers set around pools and on patios. The 35 rooms are artful amalgams of muted colors, burnished woods, hand-painted tile and ceramic fixtures in a special world of their own.

       An artist himself, owner John Kay offers water color classes as well as language weeks and seminars on working in Mexico. "Life is learning," he says. "We offer these things without having to run all over town to do it." But he also arranges mountaiin biking excursions and tours to nearby towns for those who do want to run all over.

       In addition to hotels, San Miguel has a number of B & B's which range from modest to spectacular. When you arrive at the Casa de la Questa you might think it's one of the former. The neighborhood is          working class, a couple of steep blocks above the artisans' market. But open the door and once again it's Alice through the looking glass.

       Heidi and Bill Levasseur had lived all over the world working for an advertising agency when Bill received a final assignment. "Do we really want to end up in Detroit?" they wondered. So they came to San  Miguel, bought a lot in 1997 and built a collection of spacious rooms on 3 levels with balconies and terraces, high ceilings and graceful arches around two lovely open courtyards.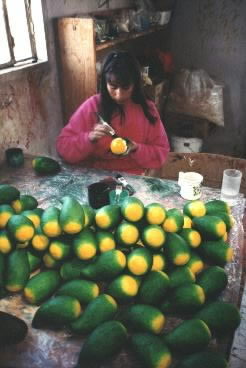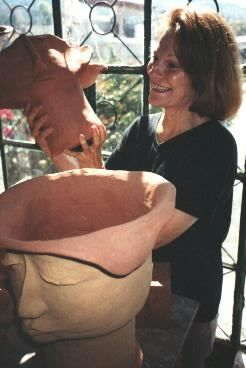 Heidi is a painter and art teacher, so the walls are hung with fanciful masks, primitive paintings and sophisticated paper cutouts, all for sale. To find artisans at work is the job of a young local guide, Dali Amaro. Winding through the narrow streets, he leads his charges to an abandoned hotel where tinsmiths cut birds' wings out of shiny sheets of metal. Outside in the courtyard, young women put the finishing touches on brightly painted wall plates. By a muddy river skirting the town a crumbling building hides a busy papier mache factory. Here women paint hundreds of pears and bananas and apples in brighter-than-life colors. Up the hill in another workshop, stone masons chip at great blocks, the first step in forming the crosses that lean against a rickety tin shed.

        Sharon Milligan's rooftop studio is another matter. It sits above the gallery where her sculptures sell for up to 4,000 dollars. Bathed in sunlight, pieces in clay wait to be fired in her kiln. "15 years ago I came for 2 months maximum," she says. "San Miguel was such a wonderful environment to work in. I bought a piece of property where there was nothing but pigs, hundreds and hundreds. Now it's almost in town. If money were important to me I'd do almost anything else. But my life here is very good. I'm surrounded by everything I love."

        People who came to San Miguel years ago sometimes regret how cosmopolitan it has become. "Of course I liked it better before," says Sidell in her shop of silk dresses. "I fell in love with the intimacy.          But I still like it. I'm very busy in the studio. And I have my friends. Thank God for cell phones."

        Each newcomer discovers San Miguel for the first time. Most of those arriving these days find it perfect, just as those did who came long ago. It's a pretty safe bet that future visitors will be as charmed by this lovely Mexican town as those of yesterday and today.

        HOW TO GET THERE: Several American and Mexican carriers fly to Mexico City, 175 miles and 4 1/2 hours from San Miguel, or Leon, 93 miles and 1 1/2 hours. Delta Airlines, 800 241-4141, flies non-stop from Atlanta to both cities. Hotels can arrange transfers, or Viajes San Miguel, 011 52 415 2537, offers van shuttles. Website: www.enjoy-mexico.com.

        WHEN TO GO: San Miguel's climate is temperate year round with modest seasonal differences. April and May are warmer. June through September are rainier. Winter can be cool but is usually spring-like.

        EXCURSIONS: Of several nearby towns, Guanajuato is worth 2 days for its colonial buildings, unique museums, fabulous concert hall and walking areas. Also home to two great artists, ceramicists Gorky          Gonzales, Tel. 011 52 473-10389, website: www.gorkypottery.com and "el Capelo," tel. 011 52 473-28964. Call for directions to their beautiful home/galleries.

        WHERE TO STAY: Among the wide range of accomodations available, the best are Casa de Sierra Nevada, telephone toll-free 888 341-5995. Website: www.slh.com/sierranevada. La Puertecita, tel. 011 52 415   25011. Website: www.lapuertecita.com. Casa de la Cuesta, 011 52 415 44324. Website: w.casadelacuesta.com. In Guanajuato, the Hotel Quinta las Acacias. Tel 888 497-4129. Website: www.int.com.mx/acacias. La Casa de Espiritus Alegres, tel. 011 52 473-31013. An art-filled B & B.

        WHERE TO EAT: Hotels can direct you to the following: El Capillo. Excellent food on a beautiful terrace. El Pegaso. Inexpensive Mexican cuisine and sinful American-style desserts. Tio Lucas. Good food and          service, cool jazz. Villa Jacaranda. Elegant dining in a lovely setting. Villa Rivera. Excellent food. Romantic at night. Casa de Sierra Nevada. 2 gourmet restaurants. La Puertecita. Fine dining, famous buffets. In Guanajuato: Hacienda de Marfil. Conde de la Valenciana.

        WHERE TO SHOP: To get you started: Sidell, 117 Quebrada Street. Sharon Milligan Gallery, 104 Hernandez Macias. The Instituto Allende, 20 Ancha de San Antonio, Bellas Artes Art Institute. 75 Hernandez Macias. Casavieja, 83 Mesones. Galleria de Arte Fotografico, 46 Reloj. Casa Maxwell, 14 Canal. Bazar El Nuevo Oeste, 121 and 126 Hernandez Macias. Casa Rosada, 12 Cuna de Allende. Duo Duo, Pila Seca.

        WHAT TO READ: "The Insider's Guide to San Miguel," by Archie Dean. Available in local shops and at website: http://insidersma.tripod.com. Atencion San Miguel and El Independiente are 2 English newspapers with local events.

        ARTISANS' WORKSHOPS TOURS: Dali Amaro, guide. Tel. 152-8625.

        USEFUL WEBSITES: www.portalsanmiguel.com. www.instituto-allende.edu.mx. www.infosma.com.

        FOR FURTHER INFORMATION: The Mexico Tourism Board. 800 446-3942.